Posted on June 4, 2015
KEY WEST, Florida Keys — Visitors can celebrate equality, applaud the dedication of a permanent rainbow crosswalk on Key West's iconic Duval Street and attend the final rounds of a nationally renowned cocktail competition at Key West Pride 2015. Set for Wednesday through Sunday, June 10-14, the festival salutes diversity on the subtropical island internationally known as a top gay and lesbian vacation spot.
The five-day schedule includes daytime pool and beach parties, late-night drag shows, on-the-water adventures ranging from snorkeling and kayaking to glass-bottom boat tours, a street fair, a 10k relay for tutu-wearing runners and walkers, and pageants to select Mr., Miss and Ms. Key West Pride.
The festival's focal events are to include the dedication of a rainbow crosswalk at the intersection of Duval and Petronia streets, the heart of Key West's LGBT entertainment district. Co-sponsored by the City of Key West and the Key West Business Guild, the rainbow crosswalk is imprinted permanently on the pavement connecting all four corners of the intersection. The dedication is scheduled for noon Saturday, June 13, during the Key West Pride Street Fair.
Other Pride highlights are to include the 2015 Stoli Original Cocktail Challenge's Wednesday night kick-off gala, Friday night run-offs and Saturday night final round. The contest features regional winners from LGBT bars in 14 North American cities, all competing to create an original Key West cocktail that communicates the island's creativity and spirit.
The final round is set for 7-10 p.m. Saturday on an open-air stage in the 700 block of Duval St. Eight finalists are to concoct their libations for a judging panel that includes Broadway actor and former "Queer Eye" television personality Jai Rodriguez, Emmy Award-winning comedy writer and actor Bruce Vilanch, clothing designer Andrew Christian, actress and singer Latoya London and famed Key West female impersonator "Sushi."
The winner is to be the honorary grand marshal of the 2015 Pride Parade alongside celebrity grand marshals Rodriguez and Christian. The all-welcome procession, to feature a 100-foot section of Key West's famed sea-to-sea rainbow flag, is set to begin at 5 p.m. Sunday, June 14, and proceed up Duval Street from the Gulf of Mexico to the Atlantic Ocean.
Following the parade, the grand marshals are to entertain attendees at a Sunday night showcase at Key West's historic San Carlos Institute, 516 Duval St.
Event information and schedule: keywestpride.org

Key West visitor information:
fla-keys.com/keywest/gaykeywest.cfm or
gaykeywestfl.com

Social: Facebook • Twitter • KeysVoices.com • YouTube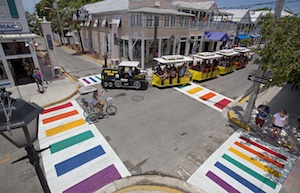 Pops of color accentuate the newly painted crosswalks. Image: Rob O'Neal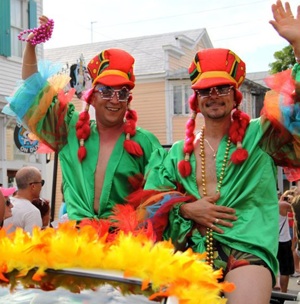 Revelers enjoy Key West's iconic Duval Street.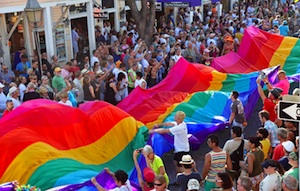 The 2015 Pride Parade is an all-welcome procession, and is to feature a 100-foot section of Key West's famed sea-to-sea rainbow flag.