Posted on April 30, 2014
Sometimes the Florida Keys' hidden treasures and colorful locales can be eclipsed by better-known spots. For a unique and enriching Keys vacation, explore intriguing attractions away from the mainstream haunts — whether secluded natural areas, historic spots or unexpected emporiums.
For example, did you know Key Largo contains a mecca for chocolate lovers? If you've got a sweet tooth, stop at Key Largo Chocolates, home to the Florida Keys' only chocolatier, located at mile marker (MM) 100.5 bayside. Self-described as a "grandma and grandpa operation," Key Largo Chocolates infuses local flavors into handmade chocolate treats — like Key lime white chocolate truffles and quirky "chocodiles" shaped like tiny crocs. Check it out at keylargochocolates.com.
Travel the Florida Keys Overseas Highway to the southern end of the Islamorada area, and you'll find Long Key State Park on the Atlantic Ocean at MM 67.5. The Spanish named this island "Cayo Vivora" or Rattlesnake Key because it's shaped like a snake with its jaws open.
In the early 20th century, Long Key was home to a fishing resort frequented by legendary western writer and passionate angler Zane Grey. Today, you can explore the island by paddling through its connected lagoons or hiking two land-based trails. Check out the Golden Orb Trail, meandering through five natural communities to an observation tower that offers a panoramic view of the island. For details, visit floridastateparks.org/longkey.
Head down the highway to Marathon and spend some time at the 63.5-acre Crane Point, one of the Keys' most sensitive environmental and archaeological sites. A one-of-a-kind living record of Keys history, the property contains evidence of prehistoric Indian artifacts and was once the site of a Bahamian village.
Located at MM 50.5 bayside, Crane Point also features the Museum of Natural History of the Florida Keys, the Marathon Wild Bird Center and the historic Adderley House. Stroll along the rustic interpretive nature trails to discover endangered native foliage, unusual geologic features, colorful exotic vegetation and even ancient ocean fossils. Explore further at cranepoint.net.
If you've ever visited Big Pine & the Lower Keys, you probably looked for the tiny, shy Key deer that are protected in the area. These skittish creatures are most likely to be roaming around at dawn or dusk, and it's a real treat to spot one.
Make a stop at the National Key Deer Refuge Visitor Center in the Big Pine Key Plaza, located off the Overseas Highway at MM 30 bayside, and learn about the unique deer and their recovery from extinction — a true environmental success story. You'll find more information at fws.gov/nationalkeydeer.
Unexpected discoveries await in Key West, too. Among them is the historic, never-used Civil War-era fort called West Martello Tower, located overlooking the Atlantic Ocean at White Street.
It's now headquarters for the Key West Garden Club, where beautiful indigenous plants and rare palm trees bloom against the weathered brick fort. Wonders include a huge tree grown over a narrow tunnel-like archway that you can actually walk through. Information is available at keywestgardenclub.com.
And if you enjoy prowling around unusual shops, Key West offers one of the best: an honest-to-goodness "curiosity shop" called 90 Miles to Cuba.
You'll find everything from local art to nautical antiques, vintage jewelry and Hardy Boys books. It's located at 616 Greene St. and its hours are as eccentric as the emporium itself; just keep checking back till the weathered wooden door is open. For a glimpse of the goods, visit 90milestocuba.net.
Of course, these are only a handful of the out-of-the-way spots worth exploring in the Florida Keys. So start planning your next trip to the colorful island chain, and compile your own list of hidden gems.
Key Largo Chocolates is a chocolate shop and factory, with truffles that are all handmade with the finest Belgian Chocolates and natural flavors.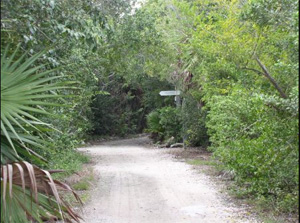 Crane Point Museum and Nature Center features 2.5 miles of trails and wooden walkways crisscrossing the hammock. Trolley tours of the botanic gardens and historic sites can also be arranged.
The tiny Key deer, about the size of a large dog, is indigenous to the Lower Keys. Photo: Andy Newman