Chef Paul Kapsalis and wife Kris Kubik are owner-operators of South of the Seven restaurant, tucked inside the gulfside 1950s-era Sugarloaf Lodge at mile marker 17 on Sugarloaf Key.
Popular fare includes local rosefish fried whole with Thai chile sauce, tomahawk steaks, and drunken rum cake topped with toasted coconut and fresh cream.
Kapsalis utilizes the freshest local products. "For instance, when I can get four types of grouper or snapper, I'll prepare a flight," he explained. "Our whole fried soft lobster and fish collars are sought-after menu options."
Kapsalis grew up in Clearwater, Florida, and is a graduate of New York's Culinary Institute of America. He's cooked at New York City's James Beard House; the Grove Park Inn in Asheville, North Carolina; and the Inn at Blackberry Farm, a Relais Chateaux property in Walland, Tennessee.
He also directed food service at Earth Fare supermarkets in Asheville and was executive chef at Highland Lake Inn in Hendersonville, North Carolina, where he and Kubik met. Moving back to Florida in 1998, the couple opened Green Springs Bistro, operating it for nearly two decades on Tampa Bay.
As part-time Lower Keys inhabitants, Kapsalis and Kubik were known for cleanup and feeding residents after 2017's Hurricane Irma. The couple, asked to conceptualize a restaurant at Sugarloaf Lodge, opened South of the Seven in April 2019.
Chef Paul's motto: "Find the best and freshest ingredients. Treat them with love and respect."
Where he dines: Miso Happy and Atlas Izakaya in Key West. Chico's on Stock Island. At friends' homes and on the water.
Where he explores: The salty sea.
How he relaxes: In the kitchen and on the water. "In the Keys, we're all bonded by water."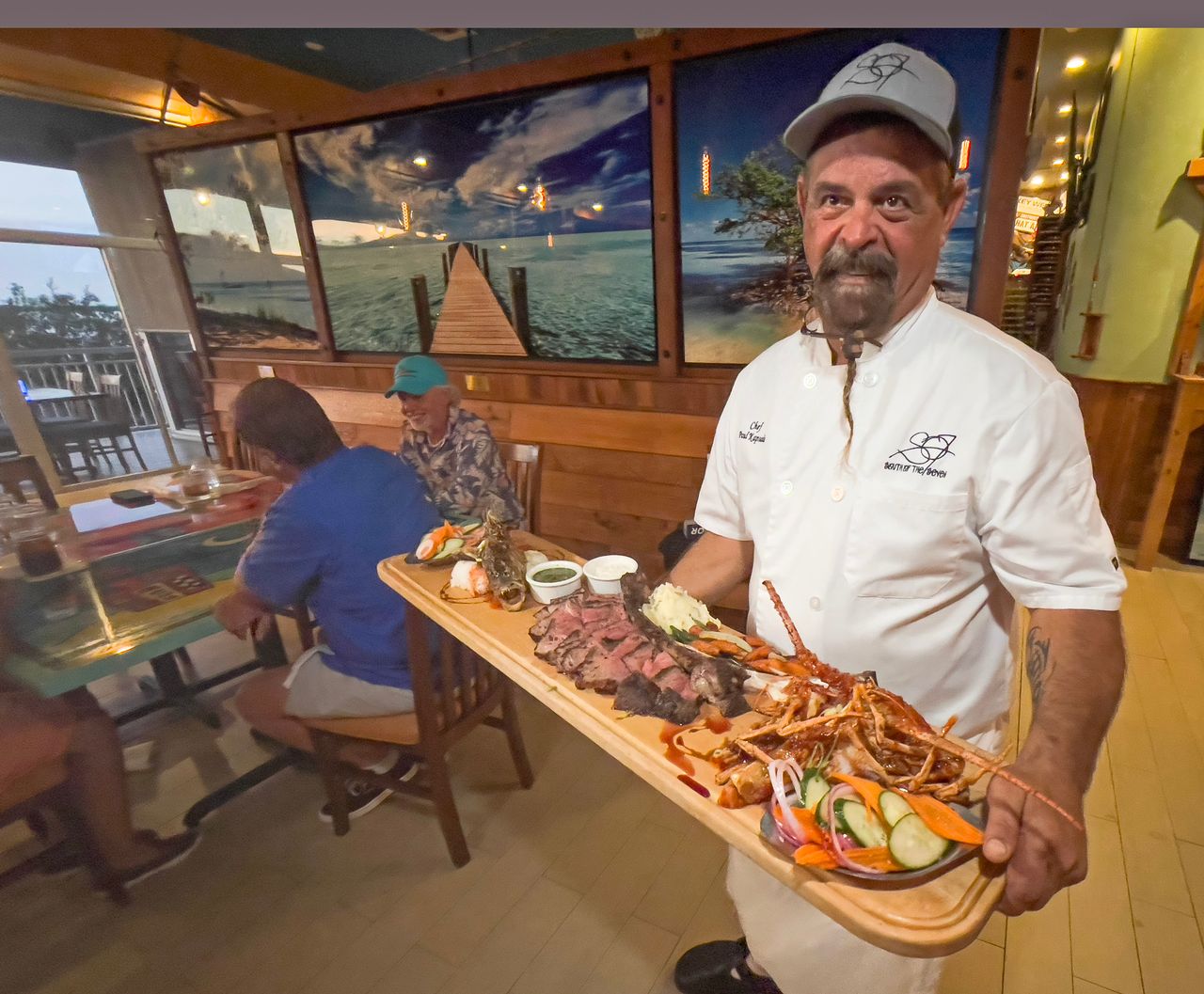 Chef Paul Kapsalis presents some of his chef's special dishes including whole fried fish with Thai chili sauce, bone-in tomahawk ribeye steak and soft shell Florida lobster. Photo: Andy Newman
This article was updated on September 27, 2023 at 1:55 PM