FLORIDA KEYS — In most locales, the nightly sunset takes place without fanfare. But in the Florida Keys & Key West it's an occasion for celebration.
Throughout the island chain, people gather to mark the moment as the sun slips below the horizon — perhaps toasting it with cocktails in a waterfront bar, saluting it during a sunset cruise on a tall ship or catamaran, or pausing in a stroll along the shoreline or the Old Seven Mile Bridge to appreciate it.
Admittedly, sunset in the Florida Keys is worth the attention it receives, painting the sky with a palette of creamsicle orange, purple, red and dusty pink. It has inspired countless photos posted to social media, backdropped thousands of weddings and even earned national travel kudos.
Why are sunsets so memorable in the Florida Keys? According to Bill Cottrill, a specialist at the National Weather Service's Florida Keys forecast office, the right clouds play a major role in making a sunset superlative.
"Scattered cumulus clouds toward the horizon can make a very dramatic sunset," Cottrill explained. "As the sun sets, you have it going low enough in the sky to where we get crepuscular rays — the shadows caused by the clouds where they break the sun.
"If you add some high cirrus clouds, you get even more drama because cirrus clouds are made primarily of ice, and they add more ice crystals that the sun will reflect off," he advised. "You see the pink and orange upwards off the sun and the ice, and the clouds become colorful — but it's really the sun reflecting or refracting off of the cloud itself."
As for the "green flash" that Keys legend says sometimes can be glimpsed at the moment the sun disappears, Cottrill said it's caused by the refraction of light near the horizon on a very clear, cloudless day — and it's so rare that he has never seen it.
While the green flash may be elusive, another unique element accompanies the sunset each evening in Key West: a waterfront Sunset Celebration featuring exuberant street performers and local artisans offering handmade wares. People of all ages flock to Mallory Square, the historic pier overlooking Key West Harbor and the Gulf of Mexico, to enjoy the carnival-like atmosphere.
The Mallory Square performers offer a spectacle as vivid as the sunset itself. Visitors might encounter acrobats, musicians, dogs and cats doing tricks, jugglers and masters of comic patter — all sharing their talents with the crowds. And no one can overlook iconic tightrope walker Will Soto, who can be seen balanced high above his audience, silhouetted against the orange and crimson splendor of the setting sun.
Florida Keys visitor information: fla-keys.com or 1-800-FLA-KEYS
Facebook • Twitter • Instagram• YouTube• KeysVoices.com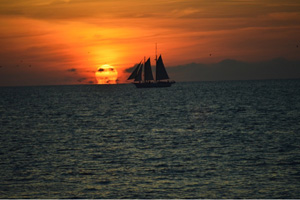 Image: Richard Napolitano/Florida Keys Photo Adventure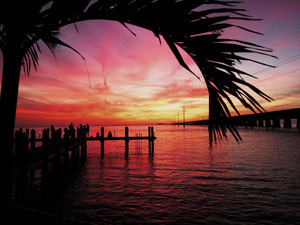 Image: Frank Pascoe/Florida Keys Photo Adventure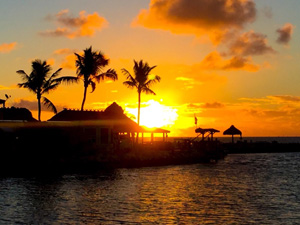 Image: Barry Burress/Florida Keys Photo Adventure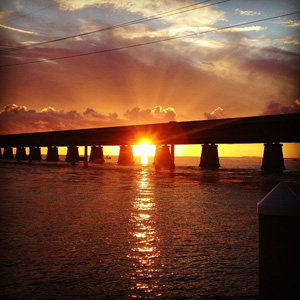 Image: Rita Wilcher/Florida Keys Photo Adventure