Posted on July 20, 2017
FLORIDA KEYS — Encouraging environmentally responsible behaviors is a crucial element of the Florida Keys' commitment to protecting the region's natural resources, including the continental United States' only living coral barrier reef. Visitors can share in that commitment by following the "10 Keymandments."
While the Bible's 10 Commandments advise people what NOT to do, the Keymandments advise travelers what they CAN do to have a meaningful, memorable vacation while respecting and helping preserve the Keys environment. They are lighthearted yet educational guidelines for enjoying a simply sustainable travel experience in the laid-back subtropical destination.
Plant a coral (or adopt one of the cute little things, but don't touch them on the reef).

Support the wildlife (volunteer food, funds or time to a local wild bird center).
Take out the trash (especially if it's floating in the water).
Capture a lionfish (any time and any size — we can show you how).
Leave a digital footprint (share pictures with fans, friends and followers).
Hike it, bike it or hoof it (it's low on eco-impact and high on fresh tropical air).
Catch dinner (and release all the fish you know you can't eat).
Use a mooring buoy at dive sites (save your back and leave the anchor alone).
Conserve vs. consume (reduce, reuse and recycle even on vacation).
Get off the beaten path (you can hike, bike, walk, kayak or paddleboard along Keys trails).

The Keymandments are a contemporary addition to more than a century of efforts to preserve the Florida Keys environment, including the reef paralleling the island chain — the third-largest coral barrier reef system in the world. Much like a tropical rainforest, it supports a rich diversity of plants and animals.
Endeavors have included creating John Pennekamp Coral Reef State Park as America's first underwater preserve, establishing the Florida Keys National Marine Sanctuary, developing wildlife preserves and pioneering catch-and-release fishing practices.
In addition, experts spearheading coral restoration efforts in Keys are steadily restoring endangered corals by replanting new growths from coral nurseries to the reefs.
As stewards of unique natural resources, eco-conscious Florida Keys residents and visitors practice a culture of conservation as they eat, drink, sleep, swim, explore and play above, on and beneath the waters surrounding the 125-mile island chain.
To learn more about the simply sustainable Florida Keys, visit fla-keys.com/greentravel.
Facebook • Twitter • Instagram• YouTube• KeysVoices.com
Image: Brett Fortenberry/Florida Keys Photo Adventure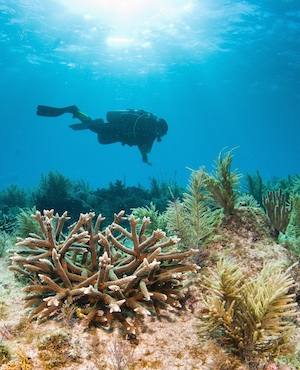 Image: Tim Grollimund
Fishing for bonefish in the backcountry flats, a catch and release sport.