Florida Keys - Early shipwrecks and vessels intentionally sunk to create artificial reefs serve as refuges for fish, delicate corals and invertebrates in the Florida Keys, as well as playgrounds for divers.
Professional dive operators in the Keys typically remind divers that any life and growth on the wrecks adds to the habitat. They also advise that if divers spend time looking for the little things like blennies, shrimp, tiny lobsters, fish eggs, sponges, feather dusters and tube worms, they'll see a lot more: hogfish, parrotfish, squid, hammerhead sharks and many other large species of marine life that they don't normally see on a coral reef.
Among the nine notable wreck sites that are part of the popular Florida Keys Wreck Trek is an "awesome foursome" for advanced and wreck-certified divers, including one shipwreck that marks its 30th year underwater in March 2016.
Spiegel Grove Spiegel Grove, currently the third-largest vessel ever intentionally sunk to create an artificial reef, is positioned in 130 feet of water about 6 miles off Key Largo. Designed to carry cargo and craft for amphibious landings, the ship was retired by the Navy in 1989.
Slated for an intentional scuttle May 17, 2002, the retired 510-foot ship prematurely sank off Key Largo and rolled over, leaving its upsidedown bow protruding above the surface of the water. Three weeks later, a salvage team managed to completely sink the vessel and it came to rest on its starboard side.
After Spiegel Grove spent more than three years welcoming divers in that position, the story took another unexpected twist. In July 2005 Hurricane Dennis skirted the Keys but brought what many call the storm's gift to sport diving. When it was east of Cuba it generated powerful currents that migrated up the Florida Straits — and turned Spiegel Grove upright — the originally planned position.
Today, the top deck of Spiegel Grove lies about 60 feet below the surface of the ocean. The ship is so wide that, on many days, the view of the superstructure fades into a green-blue abyss. On the clearest days, the sandy bottom is visible at a depth of about 130 feet from the surface. Mooring buoys provide convenient, coral-friendly boat tie-offs.
Thunderbolt The waters off Marathon are home to the Thunderbolt, known as the queen of the Marathon wreck fleet. The 188-foot cable layer also served as a research vessel to explore the electrical energy of lightning strikes.
The local dive community purchased Thunderbolt, originally named Randolph, and sank it as a dive attraction 30 years ago — specifically March 3, 1986 — in approximately 120 feet of water 6.5 miles south of Duck Key Channel in the Florida Keys National Marine Sanctuary.
Divers can navigate this entire wreck during one dive, accessing it by following the lines of two submerged mooring balls positioned at the bow and stern. Thunderbolt sits upright and the top of its observation deck is 75 feet beneath the surface.
The most notable feature is a giant cable spool at the bow. The wheelhouse is an easy and intriguing swim-through, and the aft end of the wreck has been cut away to expose the engine room and the interior of the hull. The rudder and propellers were left on the ship to complement the stern section of the hull to appeal to divers.
Thunderbolt's superstructure is coated with colorful sponges, corals and hydroids, providing refuge and sustenance to large angelfish, barracuda, jacks, cobia, hogfish, tarpon and a variety of deep-water pelagic creatures including goliath and black grouper.
Adolphus Busch The 210-foot Adolphus Busch lies between world-famous Looe Key and American Shoal, about 6 miles southwest of Big Pine Key.
Originally built in Scotland in 1951, the ship was intentionally sunk in 100 feet of water on Dec. 5, 1998. Hatches and portholes were removed for safety, 12 holes were drilled into the vessel and water was pumped into its hull.
It settled upright and in perfect condition on a sandy bottom. The wheelhouse is at 70 feet and overlooks the main deck, which is at 90 feet.
The Busch's life as a short-haul island freighter was interrupted in 1957 by a call from Hollywood. It co-starred with Robert Mitchum, Jack Lemmon and Rita Hayworth in the film "Fire Down Below."
Previously flagged as the London, Topsail Star, Windsor Trader and Ocean Alley, the ship was christened Adolphus Busch Sr. by the Anheuser-Busch brewery founder's grandson, Adolphus Busch IV, an avid diver and fisherman who resides part-time in the Keys.
Vandenberg Sunk May 27, 2009, Gen. Hoyt S.Vandenberg became the second-largest artificial reef in the world and sits in nearly 150 feet of water approximately 7 miles off Key West. Since then, algae and soft corals have covered the hull, densely populating it with species of coral, sponges, invertebrates, sea fans and sea whips.
Divers descend along a lead line attached to one of six of the wreck's mooring lines placed intermittently along the 523 feet that stretch from bow to stern. All dive spots along the superstructure are open, free from obstruction and easy to maneuver around during a dive. However, several return trips are required to appreciate Vandenberg's length — nearly two football fields.
Two iconic radar dishes are a popular attraction. The larger radar dish, as film buffs may remember, provided quite an explosive sequence in the 1999 movie "Virus" when a laser from space blew the dish off the ship.
Professional photographer Don Kincaid has seen the wreck transform since his first dive just after it sank. Kincaid likes to shoot images of the ship in ways that even non-divers can relate to and recognize — people who have potentially never seen a shipwreck before.
"What I love about the Vandenberg is that it's a constantly changing wreck site," Kincaid said. "There is a constant newness about it and a surprise around every corner."
Be Prepared and Well Trained For a normal dive on a wreck, it is primarily recommended (and at certain shops, required) that divers be properly trained and certified as advanced and wreck divers. If divers have open-water certification, local dive shops may ask them to produce their logbooks or dive computers for review for air management skills and proof of a dive to 100 feet within the last year.
Florida Keys diving information: fla-keys.com/diving
Florida Keys visitor information: fla-keys.com or 800-FLA-KEYS (352-5397)

Social: Facebook • Twitter • KeysVoices.com • YouTube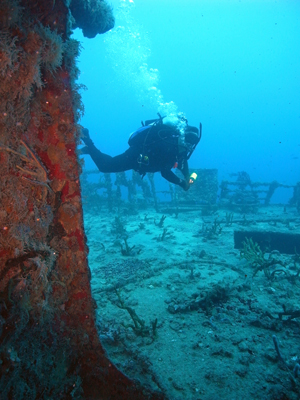 A Wreck Trek diver explores the Spiegel Grove.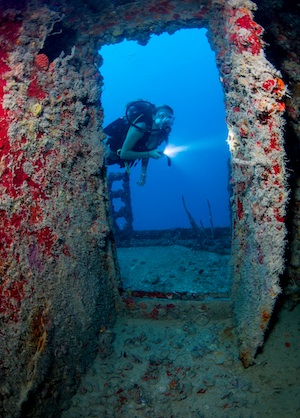 Thunderbolt, originally named Randolph, was sunk as a dive attraction 30 years ago, March 3, 1986.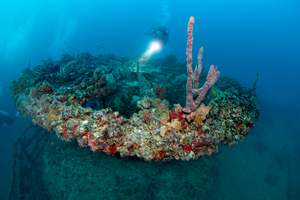 The 188-foot cable layer "T-bolt" features an iconic, giant spool located at the bow.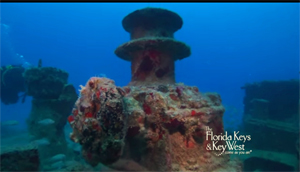 The Adolphus Busch settled upright and in perfect condition on a sandy bottom. A shallow site between 70 and 90 feet, the wreck is often the first wreck dive for students learning a wreck specialty.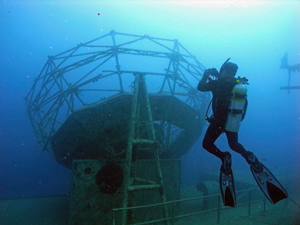 A diver snaps a pic at one of the Vandenberg's iconic radar dishes.