In late 1840s Key West, John Bartlum wanted a home for himself and his family. A master shipbuilder, he had a perfectly good house on Green Turtle Cay in the Bahamas — so after thinking it over, Bartlum decided there was only one practical thing to do: disassemble his Bahamas house, float it by ship to Key West and reassemble it there.
The concept made so much sense to Bartlum's fellow shipbuilder, Richard Roberts, that he too decided to float his Bahamas house to Key West.
Today the Bartlum and Roberts homes, successfully reassembled and located at 703 Eaton St. and 408 William St., are the only ones known to have been shipped to the island city.
Unique as they are, they certainly aren't the only architectural treasures in Key West. In fact, the island's Old Town historic district, believed to be the largest predominantly wooden one in the entire United States, includes almost 3,000 structures. There are few better ways to discover the "locals' Key West" than to explore this intriguing residential area.
Take a leisurely stroll or bike ride through the historic district and you'll realize how many influences contributed to its fascinating blend of architectural styles. You'll spot elegant two-story homes with wraparound verandahs rubbing shoulders with tiny, flower-decked cottages, or a tumbledown structural hodgepodge next to a restored Victorian gem.
Many houses are painted in tropical pastels or adorned with the wooden lacework known as gingerbread, and some have small openings called scuttles in their roofs for improved air circulation. White picket fences provide a finishing touch almost too picturesque to be real.
A good number of these Old Town homes date from the 19th century and reflect the building styles and cultures of the early settlers: Bahamian shipwreck salvagers, New England sea captains and Cuban cigar barons.
Some were built by the shipbuilder-carpenters of the 1800s who turned their skills in crafting sloops and schooners to land-based projects. Now known as Conch houses, they most often have two stories with wraparound verandahs and shuttered doors and windows.
Others date from the greatest building surge in Key West's early history when thousands of Cuban cigar-industry workers migrated to the island following their country's Ten Years' War. As well as constructing large factories, Cuban cigar barons routinely bought blocks of property where they put up cottages for their workers.
These single-story cigarmakers' cottages are sometimes called shotgun houses and most have a side hall with three rooms, one behind the other. Why the name? Because if someone fired a shot through the front door, the bullet would emerge cleanly out the back door.
In the last quarter of the 19th century, cigarmaking and sea-based industries made Key West the richest city in Florida. The prevailing Queen Anne architecture reflected this wealth with its rambling elegance, towers and turrets, balconies and porches.
Rich exterior trim and decoration, like the delicate wooden gingerbread, is typical of Key West's late Victorian-era homes. This decorative cutout work, found in porch and stair banisters and brackets, reflects the interests and eras of the old island.
In fact, some homeowners chose gingerbread patterns that had special personal meaning, like the dwelling of a bar and gambling hall owner whose banisters are patterned with cutout whiskey bottles and card motifs.
Key West residents realized the value of their architectural heritage in the 1960s, after several historic dwellings were torn down to make way for modern development. The Old Island Restoration Foundation was created to safeguard architectural gems and encourage their preservation. Today, most historic houses have been restored to their former glory and live again as single-family homes or bed-and-breakfast guesthouses.
Whether ornate mini-mansions or simple cigarmakers' cottages, they clearly reflect Key West's individualistic heritage. In fact, from shotgun houses to scuttles, the island's architectural diversity remains one of its most colorful treasures.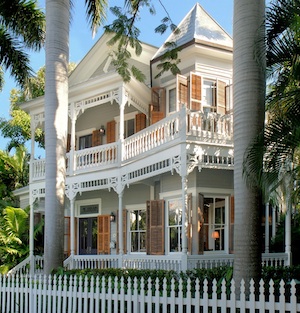 A house on William Street in its grandeur. Images: Carol Tedesco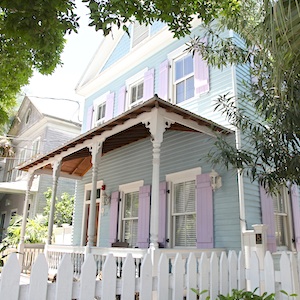 A beauty at 613 Caroline St.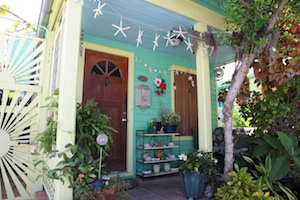 An eclectic house at 826 Terry Lane.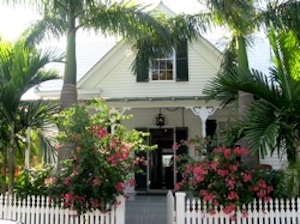 Key West's Old Town historic district, believed to be the largest predominantly wooden one in the entire United States, includes almost 3,000 structures.