BIG PINE KEY, Florida Keys — While some people strolling the Winn-Dixie shopping plaza in Big Pine Key are seeking fresh fish for dinner, others might be seeking fresh fish artistry for their homes — gyotaku or fish prints displayed among many creative offerings at the plaza's Artists in Paradise Gallery.
Featuring the work of more than 30 creative spirits, the gallery is located in a bright and airy space at mile marker 30 in the heart of the plaza. It was founded in 1994 to provide an inviting professional venue for members of the Lower Keys Artist Network to exhibit and sell their work.
Since then, it has become known for the quality and variety of its creative offerings and the camaraderie among its artists. Featured artists are either full-time or part-time residents of the Keys and work "ambassador" shifts at the gallery, sharing their knowledge and insights about the pieces on display with visitors.
Among them is August Powers, best known for the musical instruments he sculpts for the annual Lower Keys Underwater Music Festival, an undersea broadcast that takes place each July to encourage preservation of the Florida Keys' living coral reef.
Powers' skillful pieces fuse elements of marine creatures and traditional instruments, resulting in whimsical hybrids like a "manta-lin" and a "trombonefish," that are "played" by the festival's participating divers on the ocean floor. The soft-spoken Powers also sculpts in bronze and copper.
Other standout offerings include Gale Upmal's watercolor batiks on rice paper, wood art and paintings by shipwright artisan Thomas Avery, embellished and wood-burned gourd pieces by Susann D'Antonio, gemstone jewelry by Peggy Taylor and Tom Wisniewski, Joanne Jarzombeck's uniquely framed fabric art and striking sculptures in steel by Robert D'Antonio.
Perhaps most unusual is the gyotaku by Kim Workman, made by inking or painting an actual fish and pressing paper or cloth on it to create an exact replica. Workman then enhances her images with bright, bold colors.
At Artists in Paradise, art lovers are invited to browse and explore the featured work in a leisurely manner. Open daily beginning at 10 a.m., the gallery hosts a lively schedule of shows and events throughout the year — including a unique annual juried show where art lovers can purchase high-quality small works for just $99.
Gallery information: artistsinparadise.com or 305-872-1828
Lower Keys visitor information: fla-keys.com/lowerkeys or 305-872-2411
Social: Facebook • Twitter • YouTube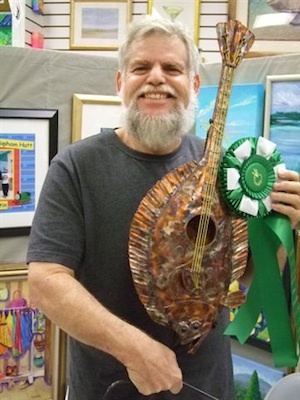 August Powers is best known for the musical instruments he sculpts for the annual Lower Keys Underwater Music Festival, including this fluke-a-lele.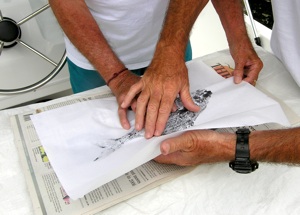 The art of gyotaku involves taking freshly caught fish and making trophy art prints from them.