FLORIDA KEYS -- Featuring vivid coral reefs teeming with exotic sea creatures, the Florida Keys offer a ready-made vacation paradise that attracts almost 800,000 snorkel and scuba aficionados each year who can't wait to get into the water and explore — even as first-timers.
Snorkeling requires a mask, snorkel, fins for propulsion and inflatable snorkeling vest to enjoy a day of underwater sightseeing. Professional snorkel charters provide (and rent) equipment and offer simple instruction. Add a T-shirt and sun block to protect exposed backs, waists and legs, and you're ready to go.
Spectacular reefs are a short boat ride from the islands, located in shallow water that's often just 10 to 15 feet deep.
Some favorite snorkel sites include the nation's first undersea park, Key Largo's John Pennekamp Coral Reef State Park, and nearby, the 9-foot-tall 4,000-pound bronze statue, "Christ of the Deep." The shrine stands on a concrete base in approximately 25 feet of water and is one of the most photographed underwater sites in the world.
At French Reef and Davis Reef, also in the Key Largo area, large groupers and moray eels cruise among the cliffs and canyons, gullies and archways at depths from 15 to 40 feet.
Off Islamorada, Alligator Reef boasts huge populations of yellowtail snapper, grunts, goatfish and damselfish, as well as a mini-wall where lobsters hide in crevices.
Among Marathon's notable patch reefs and spur-and-groove formations is Sombrero Reef, marked by a large lighted tower. You might see a pair of spotfin butterflyfish circle in their courting dance, French angelfish nip and peck at reef plants, a huge school of grunts slide back and forth in a gentle tidal surge or a stingray scour the sandy bottom for a snack.
The Lower Keys' Looe Key Reef is acclaimed as one of the most spectacular shallow-water undersea environs. Its great numbers of reef fish annually "host" a well attended, albeit unusual, event for snorkelers and divers — the Lower Keys Underwater Music Festival.
Key West offers snorkelers nearby offshore wreck and artificial reef sites including the unique Stargazer project, created by Keys metal sculptor Ann Labriola. In 22 feet of water, the 200-foot-long creation is composed of 10 steel cutouts of star constellations, each weighing between 2,000 and 8,000 pounds. Each pattern is home to abundant marine life.
Snorkeling is the perfect family activity for Keys visitors seeking close, calm observation of the inhabitants of one of the world's most diverse, complex and beautiful ecosystems.
Florida Keys visitor information: fla-keys.com or 800-FLA-KEYS
Keys diving and snorkeling information: fla-keys.com/diving
Social: Facebook • Twitter • YouTube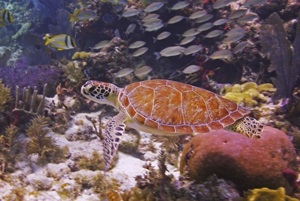 Spectacularly populated Keys reefs are a short boat ride from the islands, located in shallow waters 10 to 15 feet deep. Image by Frazier Nivens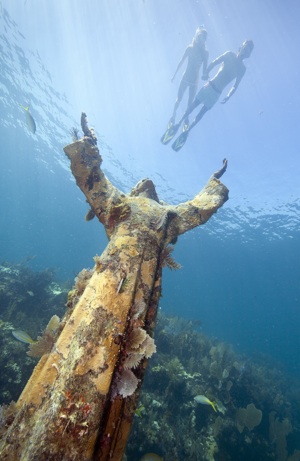 The iconic nine-foot-high "Christ of the Deep," a 4,000-pound bronze statue installed as an underwater shrine is located inside the Florida Keys National Marine Sanctuary. Image by Stephen Frink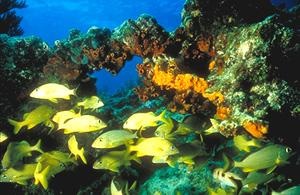 The Lower Keys' Looe Key Reef is acclaimed as one of the most spectacular shallow-water undersea environs, and location of the annual Underwater Music Festival, promoting reef preservation. Image by Bill Keogh