FLORIDA KEYS — Henry Morrison Flagler never lived in the Florida Keys, but he left a more lasting and valuable mark on the island chain than many lifelong residents.
In the early 1900s Flagler, affiliated with John D. Rockefeller in the Standard Oil Company, conceived and oversaw the construction of the Florida Keys Over-Sea Railroad, paving the way for the Keys' evolution into the destination that is internationally recognized today.
"Flagler was a great man, and through the Keys everybody loved him," said Minnie Dameron, 87, of Key West, who took several trips on the Over-Sea Railroad as a young girl. "They were so happy to see a train going to come through, they could hardly believe it. Bless Flagler — he put that through."
Born in 1830, Flagler worked as a merchant, in the grain and distillery businesses and in salt production before becoming a major stockholder in the fledgling Standard Oil, subsequently helping guide the company to vast success.
In 1883, after the death of his first wife, Flagler married again and honeymooned in St. Augustine, Fla. Shortly afterward, he began developing Florida's hotel and transportation facilities, charting a course he would follow for the rest of his life.
He began by constructing the 540-room Hotel Ponce de Leon in St. Augustine and purchasing and expanding the regional railroad.
Less than a decade later, under Flagler's direction, the line renamed the Florida East Coast Railway had been extended down the coast to West Palm Beach. Along the route, the railroad visionary built a series of luxury hotels to accommodate train passengers. Miami was the next destination reached, but Flagler didn't stop there.
By 1905, realizing the value of the Florida Keys' tropical climate and transportation possibilities when the Panama Canal opened, he had determined to extend his rail line through the Keys to Key West. In building the FEC's Key West Extension, widely called the Florida Keys Over-Sea Railroad, he remained undaunted despite near-overwhelming construction challenges, storms and widespread skepticism about the project's feasibility.
"It is perfectly simple," he said early in the process. "All you have to do is build one concrete arch, and then another, and pretty soon you will find yourself in Key West."
Under the direction of Flagler and his team, a series of bridges and viaducts took shape that ultimately stretched more than 100 miles out into open water. Completed in 1912 after seven years of unrelenting labor, it cost Flagler an estimated $50 million and required unparalleled vision and unswerving perseverance.
According to a volume released in 1912 announcing the railroad's debut, Flagler possessed those qualities in abundance.
"Add to this the fact that Mr. Flagler has, to an unusual degree, the ability to draw and bind men to himself and to inspire them with faith, devotion and loyalty," the volume's unnamed author stated, adding that Flagler also had "a determined and consistent regard for good and permanent work" and "a wise and well-guarded disregard of the cost."
By early 1912 Flagler was in his early 80s and in poor health, but his railroad from mainland Florida throughout the Florida Keys was finished.
The inaugural train from Miami pulled into the Key West terminal Jan. 22, 1912, carrying Flagler in his luxurious private car. Stepping out, he was greeted by dignitaries, citizens, schoolchildren and Key West Mayor J.N. Fogarty — all cheering his fantastic accomplishment.
Frail and almost blind, he stood with tears streaming down his face.
"I can hear the children," Flagler said, "but I cannot see them."
Later, summing up the realization of his dream, he said simply, "Now I can die in peace." He did so in May 1913 at age 83.
Over the next two decades, the Florida Keys Over-Sea Railroad carried thousands of passengers between Miami and Key West. Though it was not rebuilt after being damaged in a 1935 hurricane, Flagler's railroad is still lauded for its monumental impact as the centennial of its completion is celebrated in the Keys.
"The Keys were, with the completion of the railroad, a completely different world," said FEC historian and author Seth Bramson. "The successful completion of the Key West Extension added to Flagler's legacy to the point that today the name Henry M. Flagler is the single greatest name in the history of Florida."

Flagler Centennial Celebration information: www.FlaglerKeys100.com
Florida Keys visitor information: www.fla-keys.com or 1-800-FLA-KEYS (1-800-352-5397)


Social: Facebook • Twitter • YouTube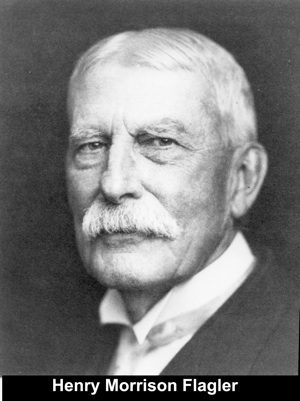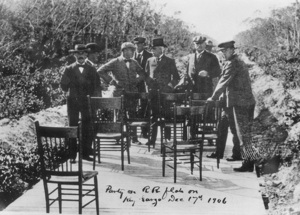 Eight of the 10 dignitaries on the Key Largo to Key West Dec. 17, 1906, inspection trip are pictured. Flagler is in center, wearing a top hat.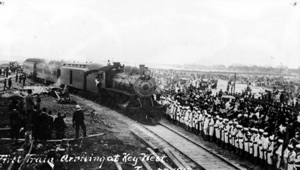 A train arrives in Key West.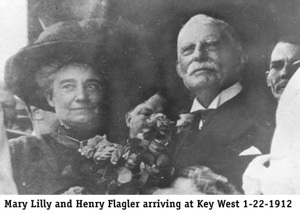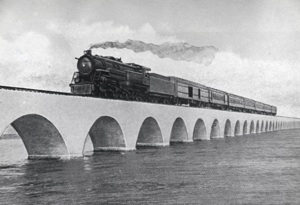 The Florida Keys Over-Sea Railroad left a lasting and valuable mark on the island chain.