Posted on November 29, 2008
ISLAMORADA, Florida Keys — Showcasing the unparalleled story of Matt Johnston and his one-of-a-kind dive gear, a "Diving a Dream" exhibit is to open Wednesday, Aug. 13 at the Florida Keys History of Diving Museum in Islamorada.
Johnston, of Woodbury, Minn., made diving history in November 2006 when he became the first paralyzed scuba diver who breathes through a ventilator to complete two successful ocean dives in the Florida Keys.
Floating face down with a medical team nearby, Johnston made his historic dives in shallow water over the reefs off the Florida Keys. The experience fulfilled a longtime dream for the 32-year-old Johnston, a quadriplegic who was diagnosed during his childhood with Duchenne's muscular dystrophy, a hereditary degenerative disease of the voluntary muscles.
He plans to attend the exhibit's opening, scheduled for 7 p.m., via webcam.
"Inclusion in the museum will carry Matt's inspiration to yet another audience," said Michael Lombardi of Oceans of Opportunity, a not-for-profit organization that collaborated with Johnston to bring his dream to life and inspire others to reach their goals.
Among the items to be on display are the double-limb vent circuit (white hoses fixed to his suit) and a custom-made Diving Unlimited International dry suit.
"The first suit is important because it's a prototype for people with trachs," said Johnston, whose paralyzed lungs receive air through a tracheotomy ("trach") tube connected to a ventilator.
Museum visitors can watch an 11-minute video segment about Johnston's diving experience that aired on NBC's "Today Show" and see Johnston's original Scubility Open Water Diver certificate — believed to be the first in the world.
As well as his Florida Keys first, the 32-year-old Johnston was among the first full quadriplegics to dive, pioneering scuba diving with muscular dystrophy. He also authored the "Manual for Ventilator-Dependent Quadriplegic Diving."
In the manual's introduction, Johnston wrote, "Diving is not just about all the trips you take and the adventures you have. It's also about the friendships you make both above and below the water."
The Florida Keys History of Diving Museum, located at mile marker 82.9 bayside, is dedicated to collecting, preserving, displaying and interpreting artifacts, antiques, books, documents, photographs and oral history relative to diving and its heritage. Donations are accepted to benefit the museum.
For more information visit DivingMuseum.org or call (305) 664-9737.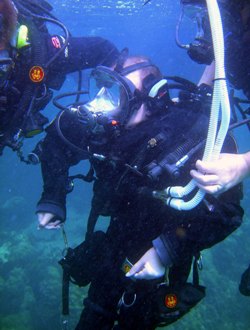 Matt Johnston on his first open-water dive off the Florida Keys in November 2006, setting the record for the world's first ventilator-dependent quadriplegic to dive in the ocean. (Photos courtesy of Florida Keys History of Diving Museum)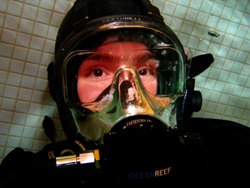 Matt donated his special, one-of-a-kind diving outfit to the History of Diving Museum.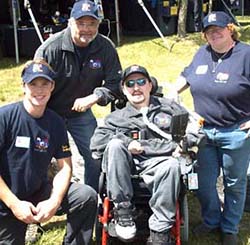 Matt surrounded by some of his supporters.