FLORIDA KEYS - The Florida Keys Shipwreck Heritage Trail is a water-based line of notable wreck sites - suitable for both snorkeling and diving - that stretches from Key Largo to Key West. Established by the Florida Keys National Marine Sanctuary, the trail was created to encourage an appreciation and understanding of the Keys' maritime heritage.
In recent years, centuries old historic wrecks have been joined by ships that were intentionally sunk to create artificial reefs and now are home to 55 varieties of delicate coral and nearly 500 species of fish in the sanctuary's federally protected waters.
Resting in depths from 20 to 140 feet, the wrecks on the shipwreck trail reflect a diversity of origins and locations. There are vessels of Spanish explorers dating to the early 1700s, as well as modern cargo and military ships.
The earliest shipwrecks lured divers with the prospect of rich cargoes, and still offer prized and colorful marine life and a glimpse of history.
Art McKee is considered the grandfather of Florida Keys treasure salvage. He began salvaging the La Capitana wreck, from Spain's 1733 Armada, in the late 1930s. After finding the Capitana, he discovered an ancient map that he compared to a modern one. He then uncovered the sites of the Infante, Herrera, Chaves, San Pedro and San Joseph, according to fellow salvor Jack Haskins of Islamorada.
Primarily interested in the Capitana, McKee concentrated on this wreck and reaped a harvest in gold, silver and artifacts. He was so successful that he applied to the State of Florida for some protection of his discoveries and received an exclusive lease covering hundreds of square miles. He also was appointed the state's first acting underwater archaeologist.
Others who were bitten by the treasure-hunting bug followed in his footsteps. Mel Fisher began his search for the shipwrecked Spanish galleon Nuestra Señora de Atocha in the Upper Keys, subsequently moving his search to Key West and establishing the Mel Fisher Maritime Heritage Society and Museum.
A center for excavation, preservation, research and exhibition of New World maritime artifacts, the museum contains gold, silver bars, coins, emeralds, jewelry and priceless historic artifacts discovered by Fisher and his crew in their 16-year search for the wreck of the Atocha.
As well as finding the Atocha wreck site in 1985, Fisher and his team also recovered artifacts from the Atocha's sister ship, the Santa Margarita, and the English merchant slave vessel Henrietta Marie, discovered near the Marquesas Keys.
The following shipwrecks compose the Florida Keys Shipwreck Trail and can be explored in the Florida Keys National Marine Sanctuary:
Off the coast of Key Largo in 25 feet of water is the City of Washington, a two-masted sailing vessel used for passenger transport and cargo trade between New York, Cuba and Mexico. It sank July 10, 1892.
The Benwood, a merchant marine freighter, also lies off Key Largo in 25 to 45 feet of water. It sank in 1942 after a collision with another vessel. Both were traveling without any lights as a precaution during World War II blackout conditions.
The Duane, off Key Largo in 120 feet of water, was named for Secretary of the Treasury William L. Duane, who served under Andrew Jackson. The vessel was sunk as an artificial reef Nov. 27, 1987.
The San Pedro was a member of the 1733 Spanish treasure fleet and is the oldest wreck on the Florida Keys Shipwreck Trail. It is located off Islamorada's Indian Key in 18 feet of water. Early shipwreck salvors known as wreckers inhabited Indian Key in the early 1800s, finding it a convenient midway station in the chain of islands and a safe harbor in bad weather.
The Eagle, a cargo transporter, was sunk as an artificial reef in 1985. It lies off Islamorada's Lower Matecumbe Key in 110 feet of water.
The three-masted bark Adelaide Baker lies south of Duck Key in 20 feet of water. The ship also is called the Conrad.
A wreck believed to be the North America lies in 14 feet of water on Delta Shoals east of Sombrero Light. The ship was lost Nov. 25, 1842, while carrying dry goods and furniture.
The Thunderbolt was donated to the Florida Keys Artificial Reef Association by Florida Power and Light Co., which purchased the vessel in 1961 for use in researching electrical energy and lightning strikes - hence its name. The Thunderbolt lies in 120 feet of water four miles south of Marathon and was intentionally sunk March 6, 1986.
The Amesbury was built for military combat and is better known in Key West as Alexander's Wreck. A former destroyer escort that is broken into two sections 200 yards apart, it lies five miles west of Key West in 25 feet of water.
Two significant artificial reefs located in the sanctuary beckon divers as well. The Spiegel Grove, a 510-foot Navy landing ship dock, is the third largest ship ever intentionally sunk to create a new reef for divers. Positioned about six miles off Key Largo in 130 feet of water, the ship has attracted divers, fish and other marine life since its sinking in May 2002.
To the west of Looe Key in the Lower Keys lies the 210-foot freighter Adolphus Busch Senior. Since Dec. 5, 1998, divers have been exploring this artificial reef approximately five miles southwest of Big Pine Key.
The second largest vessel intentionally sunk as an artificial reef is the latest addition to the "wreck trek," the 524-foot General Hoyt S. Vandenberg, a decommissioned Air Force ship that once tracked Mercury, Gemini and Apollo space launches off Florida. The Vandenberg floated for 24 years among ships in the U.S. Maritime Administration's James River Naval Reserve Fleet at Fort Eustis, Va. It saw cinema duty as a Russian science ship in "Virus," a 1999 release starring Jamie Lee Curtis, William Baldwin and Donald Sutherland.
The $8.6 million ship-to-reef project was completed May 27, 2009, when the Vandenberg was sunk about seven miles off of Key West. The bottom of the ship's hull rests on sand in depths that average 145 feet. But the ship is so massive that the superstructure begins about 45 feet below the surface.
For more information on the Florida Keys Shipwreck Heritage Trail and its featured wrecks, click here.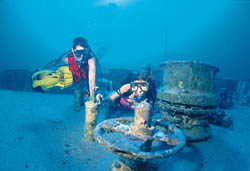 Divers examine the intentionally scuttled 327-foot former U.S. Coast Guard cutter Duane in 120 feet of water off Key Largo. Artificial reefs are an important part of the marine environment in the Keys, providing essential habitats for marine life and fish, as well as recreational opportunities for divers and fisherman. Photos by Stephen Frink/Florida Keys News Bureau.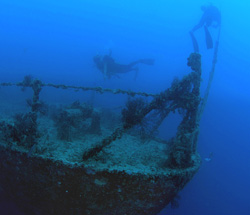 Divers swim on the shipwreck Spiegel Grove which sunk on its side in 2002 and then was righted by Hurricane Dennis in 2005. Photo by Fraser Nivens/Florida Keys News Bureau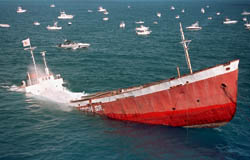 The Adolphus Busch Sr., a former island freighter renamed to memorialize the patriarch of the Busch brewing family, lies about five miles southwest of Big Pine Key in the Florida Keys National Marine Sanctuary. Photo by Andy Newman/Florida Keys News Bureau.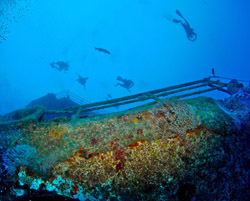 The Vandenberg is the latest vessel to become part of the Shipwreck Heritage Trail. Sunk on May 27, 2009, in 140 feet of water about seven miles south of Key West. Photo by Stephen Frink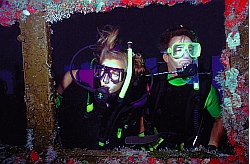 Located off Marathon, the Thunderbolt's superstructure is coated with colorful sponges, corals and hydroids, providing refuge and sustenance to large angelfish, jacks, cobia, tarpon and a variety of deep-water pelagic creatures.