Artist Taylor Hale, a Florida Keys native raised in Key Largo, has come home.
Recently moving back to Key Largo after living in St. Augustine, Florida, Hale is known for his stunning ethereal works of clouds and surreal scenes of the Keys' natural world: cloudscapes, waterscapes and landscapes.
This August in Islamorada, Hale and wife Kelly are unveiling The Hale Gallery at Ocean Sotheby's International Realty, located at 81888 Overseas Highway. It will showcase evolving, curated shows featuring Hale's work and that of artists around the country, with artistically themed and culinary events.
The graduate of Coral Shores High School describes his works as "naturalistic and coloristic, with harmonized palettes of color."
Hale also studied at the Ringling College of Art + Design in Sarasota, Florida, and was mentored by Keys artist John David Hawver. He earned a Bachelor of Fine Arts degree at Rhode Island School of Design in Providence.
After college, he established a studio in the tiny artist colony of Dublin, New Hampshire, painting commissioned portraits of prominent New England families. Hale also painted prolifically in his home studio in St. Augustine for several years before the pull of the Keys lured him back.
Hale's innate talent, it seems, was evident at a young age. His great-great grandfather was an established artist, as are several other family members.
Hale unveiled his new Taylor Hale Studio & Gallery, a stand-alone space tucked in the back of the Florida Keys Brewing Co. beer garden at 151 Morada Way, Unit 5, during a Morada Way Art Walk in July. The enthusiastic reception, he said, was "a giant hug" from old friends and art lovers.
A few of his works can also be seen at Kona Kai Resort's art gallery in Key Largo through mid-August.
Hale and Kelly have two young daughters, Florence, age 2-1/2, and baby Julia.
Keys Traveler: When did you first come to the Florida Keys and why?
Taylor Hale: I was born here. My parents met in the Lower Keys in the early 70s after coming from New Hampshire and Ohio. After college in Rhode Island and exploring other spots, I missed the Keys. When our daughters were born, I wanted them to experience a similar upbringing — in a tight-knit community with plenty of time on the water.
KT: What aspects of the Keys' environment or way of life matter most to you?
TH: The most important part of the Keys lifestyle is the water. It allows for adventure and discovery and peace and joy. It influences all of the people who come here to vacation and to live.
KT: Who or what inspired you to become passionate about respecting and protecting the Keys' natural world?
TH: I was lucky to grow up in the Keys' natural world — climbing wild tamarind trees, snorkeling at the reef, exploring the Everglades, scrambling through the mangroves. As a kid, in summers I probably spent more time on the water than on land, and I'd say that time inspired me. We always followed the motto of "leave no trace." That gave me a deep, ingrained love and respect for the beautiful waters of the Keys and a desire to protect the fragile environment.
KT: How does that passion influence your work or profession?
TH: The waters of the Keys provide me with endless inspiration for my paintings. I aim to capture moments in time in nature — the atmosphere and magic of a sunset glow, the feeling of being "small" when facing a huge white storm cloud on a summer day, the stillness of a night on the water under a full moon.
KT: What are some of the ways, personally or through your work, that you connect with and/or help protect the local environment and unique lifestyle?
TH: It's important to me to donate my work and time to groups who conserve and protect the environment. I've partnered with two great groups, Coral Restoration Foundation and Florida Bay Forever.
KT: What keeps you energized, challenged and focused on your path?
TH: My daughters keep me energized about painting. From a business perspective, they inspire me to focus on growing and reaching my potential to provide a beautiful life for them. And from a conservation standpoint, I want to to preserve the natural landscape for them, their children, and their children's children.
KT: What do you hope your positive environmental actions will accomplish?
TH: To help people become more connected to nature. In the same way that experiencing the environment shaped me and my desire to protect nature and share love, I hope that people who hang my work in their homes can feel the peaceful connectedness of being near the water.
KT: What message do you want your actions and example to communicate to people you encounter?
TH: To spread a message of peace and love! All living things — humans, animals, plants — are interconnected and each action that we take affects those around us, even in the smallest ways. Like the ecosystems of the Florida Bay rely on each other, so do we.
KT: What's your favorite natural or eco-friendly activity in the Keys?
TH: Sailing.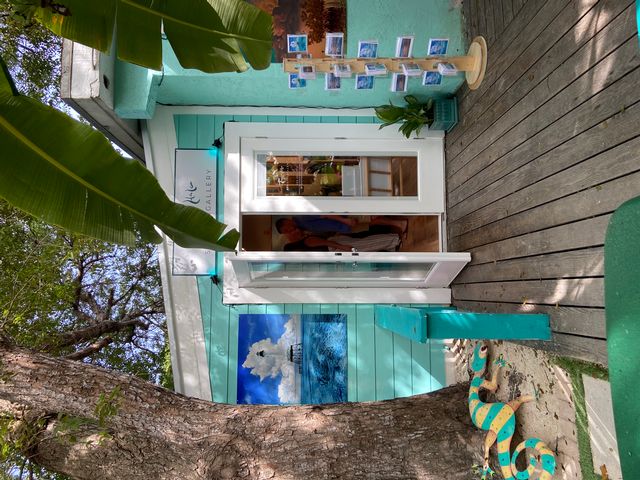 Taylor Hale Studio & Gallery is tucked in the back of the Florida Keys Brewing Co. beer garden at 151 Morada Way.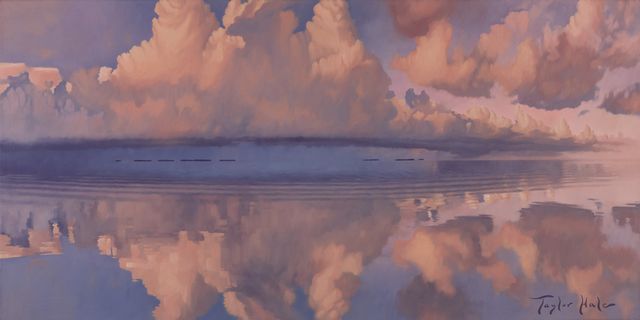 Hale aims to capture moments in time in nature with his painting, such as in this work titled Peachy.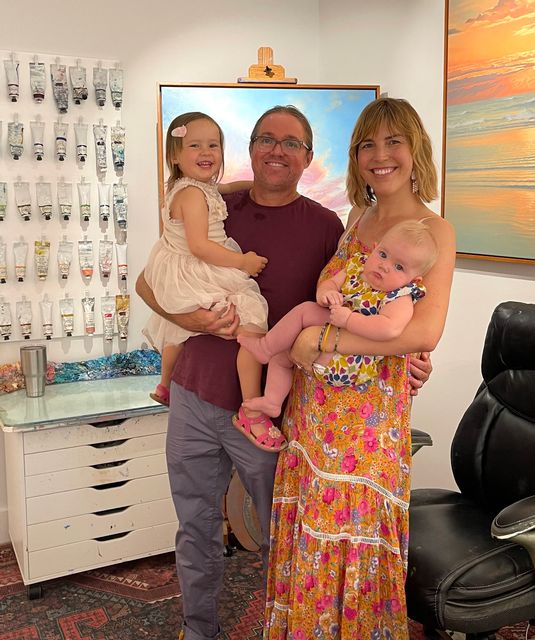 Hale's young daughters keep him energized about painting and inspire him to support the conservation of the Keys natural world.
This article was updated on August 4, 2023 at 11:53 AM