Updated on February 7, 2023
For more than 110 years conservation efforts have protected the Florida Keys' natural resources, demonstrating a commitment to environmental stewardship and resolve to preserve native plants, animals, marine life and the continental United States' only barrier coral reef.
Efforts date back to 1908, when the Key West National Wildlife Refuge was designated to create a safe haven and breeding ground for native birds and other wildlife.
Lying west of Key West and accessible only by boat, the refuge covers thousands of acres of shallow saltwater and mangrove islands. It provides nesting, roosting and foraging habitat for hundreds of species of birds from wading birds to raptors, and a nesting ground for endangered sea turtles.
The area is open to nature enthusiasts for activities such as wildlife viewing, photography, responsible recreational boating, fishing, diving and snorkeling.
In 1938, the Great White Heron National Wildlife Refuge was established to provide safe nesting and breeding areas for the large North American wading bird and other avian species. Stretching from north of Marathon to just north of Key West, it features almost 200,000 acres of open water and islands in the Gulf of Mexico — an area often called the backcountry. Primary access is by kayak, canoe or shallow-draft motorboat.
The National Key Deer Refuge was created in 1957 in the Lower Keys to protect the endangered Key deer and other wildlife.
About the size of a large dog, the deer are found nowhere else in the world and were almost extinct in the 1950s. Since then, in a heartwarming environmental success story, the population has rebounded dramatically.
The refuge encompasses some 9,200 acres and includes pine rockland forests, tropical hardwood hammocks, freshwater wetlands, salt marsh wetlands and mangrove forests. Nature trails on Big Pine Key are particularly appealing.
The Crocodile Lake National Wildlife Refuge was established in 1980 in upper Key Largo. It includes habitat and nesting sites favored by the American crocodile and hardwood hammock forest areas that shelter the Key Largo wood rat and other species. The remote preserve is generally closed to the public.
In 1990, the U.S. government established the Florida Keys National Marine Sanctuary to protect Keys waters including the coral reef that parallels the island chain.
The sanctuary now encompasses 3,800 square nautical miles of waters surrounding the entire Florida Keys. Within its boundaries lie nationally significant marine resources, historic shipwrecks and other archaeological wonders, extensive seagrass beds, mangrove-fringed islands and 6,000-plus species of marine life.
Divers and snorkelers from all over the world are drawn to the Keys to view the reef ecosystem safeguarded by the sanctuary.
In recent years — motivated by challenges faced by coral reefs around the globe — several organizations have spearheaded coral restoration efforts in the Keys. Pioneering scientists are developing ever-improving methods to propagate and maintain dozens of important coral species, while preserving genetic diversity, and are steadily restoring endangered corals by replanting new growths from Keys coral nurseries to the reef.
From the creation of the first wildlife refuge to today's coral restoration, protecting the environment remains a guiding principle in the Keys … and a promise to future generations.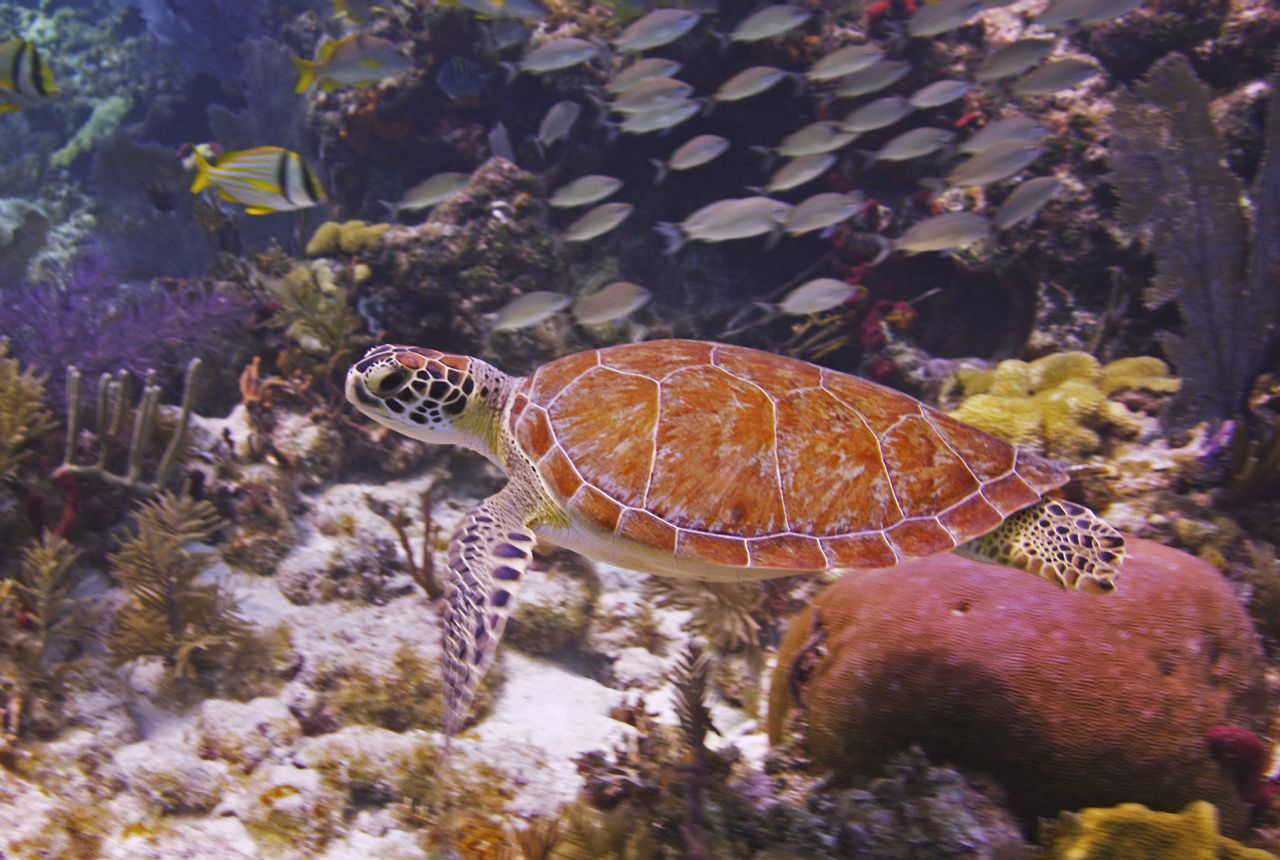 The Keys' underwater wonders are particularly spectacular along the coral reef tract near Key Largo's John Pennekamp Coral Reef State Park — America's first undersea preserve. Photo by Frazier Nivens.
This article was updated on February 7, 2023 at 4:24 PM