The Florida Keys are celebrating their bicentennial in 2023 — the 200th anniversary of the Florida Territorial Legislature's establishment of Monroe County, which contains the entire Keys island chain, that took place July 3, 1823.
From Key Largo to Key West, events recognize the historic anniversary and recall the Keys' two centuries of rich and vibrant history.
The celebration launched in March with a "200 Years of Paradise Kick-off Concert" and drone show in Key West. Festivities featured performances by musician Nick Norman and headliner Howard Livingston and the Mile Marker 24 Band, Keys heritage presentations by Monroe County commissioners, big-screen video segments illustrating the region's history, and 250 drones lighting up the sky with Keys imagery.
Subsequent 200th anniversary events included Naval Air Station Key West's Southernmost Air Spectacular, an April 15-16 weekend air show that starred the famed Blue Angels and honored two centuries of the U.S. Navy's presence in Key West. On May 19, a sunset celebration was held on the Middle Keys' Old Seven Mile Bridge.
In June, Keys visitors and residents commemorated the subtropical island chain's bicentennial with a gala sea-to-table dinner in Islamorada and a family-style waterfront picnic with celebratory fireworks on June 17 in Key Largo.
Bicentennial celebrations are to culminate July 3 — 200 years to the day after Monroe County's 1823 establishment — with Lower Keys festivities and fireworks highlighted by the creation of the world's largest Key lime pie.
Throughout 2023, museum exhibits and festivals are being themed to commemorate the anniversary and the Keys' heritage. All will illustrate ways the island chain's vivid history has influenced its present-day character and atmosphere, milestones that have contributed to its evolution since 1823, and the spirit and sense of community that underlie the Keys' distinctive lifestyle.
Upcoming Florida Keys Event to Celebrate Island Chain's Bicentennial
Florida Keys visitors and residents can commemorate the subtropical island chain's bicentennial with Lower Keys festivities and fireworks highlighted by the creation of the world's largest Key lime pie. Find details here.
Present-Day Sites Bring Keys' Past to Life
During the Florida Keys' colorful two-century history, the island chain at the southern tip of Florida has been shaped by individualists, visionaries, shipwreck salvagers, presidents and creative spirits. Today visitors can explore scores of sites that recall their presence and showcase the region's rich heritage. Read about them here.
Florida Keys Have a Heritage of Conservation
For more than 110 years conservation efforts have protected the Florida Keys' natural resources, demonstrating a commitment to environmental stewardship and resolve to preserve native plants, animals, marine life and the continental United States' only barrier coral reef. Find out more here.
Early Wreckers, Treasure Hunters and Divers Seek Keys Shipwrecks
Ever since the Florida Keys were settled two centuries ago, the island chain has been known for its residents' adventurous seafaring spirit. Today, that spirit remains among the Keys' most appealing attributes. And contemporary visitors can find it in museums and attractions, tales of sunken treasure and dive trips to famed shipwreck sites. Read more about them here.
Historical Timeline: Florida Keys & Key West
In 1513, Juan Ponce de Leon sailed the Florida Coast and encountered the Keys, which he called the "Martyrs" because he thought they resembled the floating heads of suffering men. From that time through present day, the rich history of the Keys has lured pirates, adventurers, artists, authors, musicians and other colorful characters that have helped shape the island's history. In every way, the southernmost islands are unlike anywhere else, something that has been true for centuries. Explore a timeline with highlights of the past 200 years in the Keys. Find it here.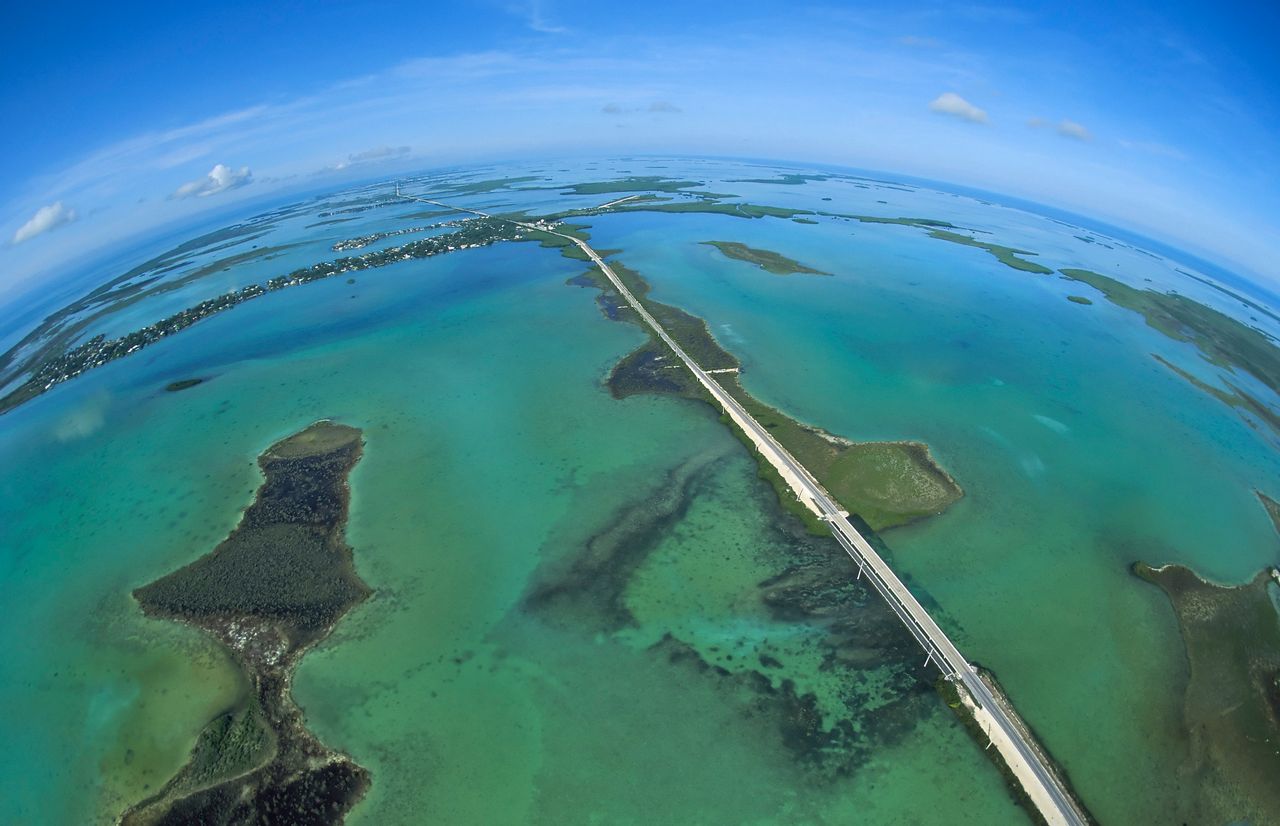 A full-frame fisheye lens helps to provide a unique view of the Florida Keys' Overseas Highway as it bisects the Atlantic Ocean, left, and the Gulf of Mexico, right, near Big Pine Key. Photo: Andy Newman.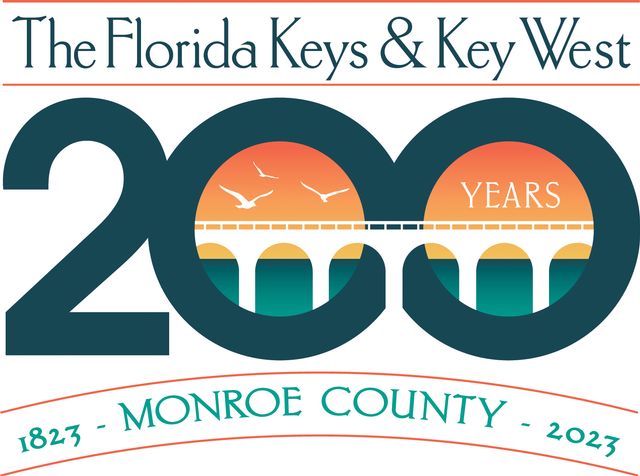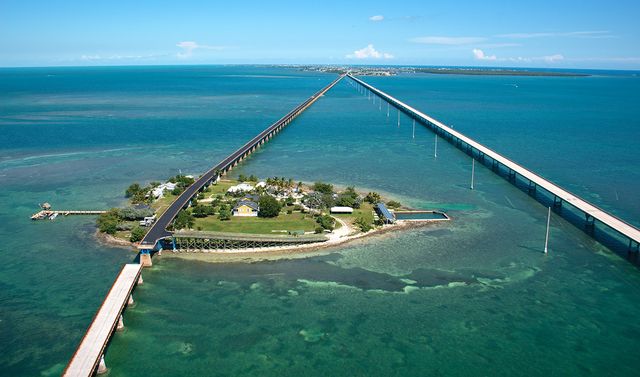 The refurbished Old Seven Mile Bridge, at left, connects Marathon with historic Pigeon Key. Photo by Andy Newman.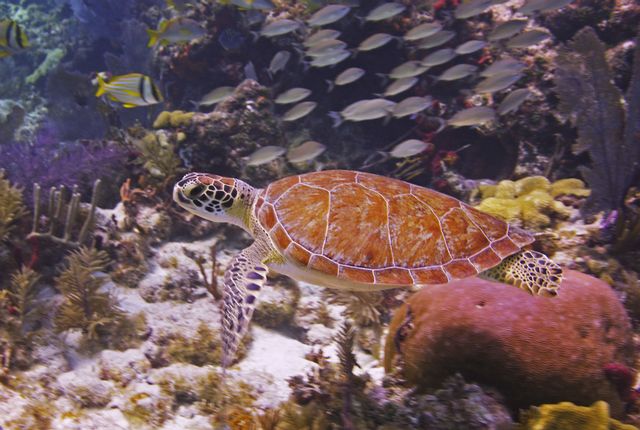 The Keys' underwater wonders are particularly spectacular along the coral reef tract near Key Largo's John Pennekamp Coral Reef State Park — America's first undersea preserve. Photo: Frazier Nivens.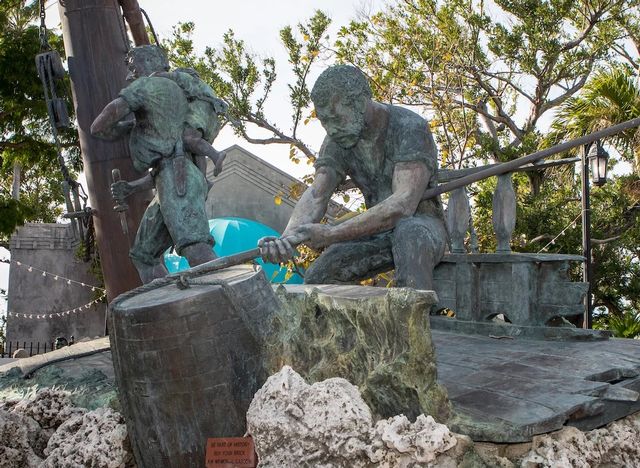 Florida Keys wreckers are memorialized in a life-size sculpture at the Key West Memorial Sculpture Garden. (Photo courtesy of Historic Tours of America)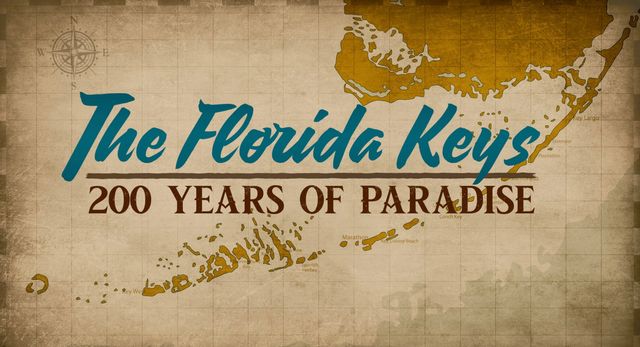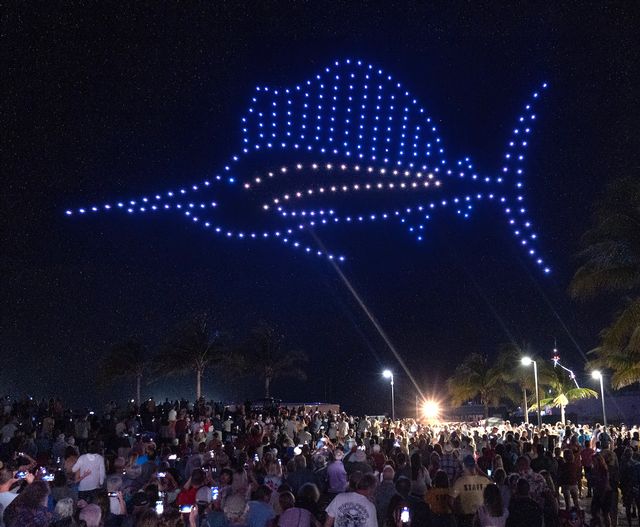 Spectators view a sailfish image formed by 250 drones over Key West during the drone show that capped the bicentennial's kick-off concert. Photo: Rob O'Neal.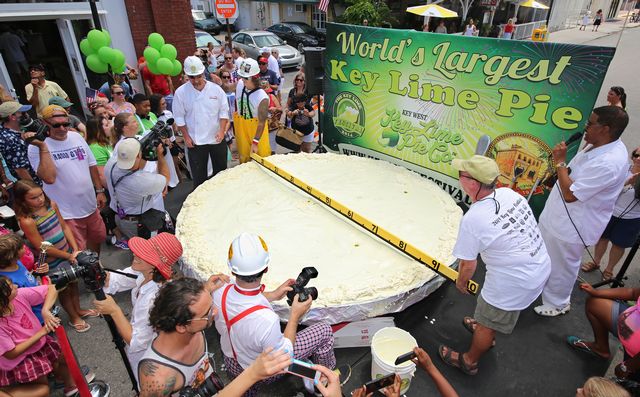 A Key lime pie measuring 9 feet, 2 inches was created in 2014 during the annual Key Lime Festival in Key West. In 2023, bakers will attempt to set a new largest Key lime pie record during the July 3 event in Big Pine Key. Photo: Rob O'Neal
This article was updated on June 22, 2023 at 8:49 AM