Updated on December 10, 2021
Key Largo, the northernmost and longest island in the Florida Keys, stretching from mile marker 107 south to mile marker 91, is known as the Dive Capital of the World and is just over an hour's drive from Miami International Airport.
Key Largo gained fame and widespread name recognition when the 1948 movie "Key Largo," featuring Humphrey Bogart and Lauren Bacall, hit the silver screen.
The island is best known for John Pennekamp Coral Reef State Park, the United States' first underwater preserve and part of the Florida Keys National Marine Sanctuary. The sanctuary covers 2,900 square nautical miles surrounding both sides of the island chain.
Experienced divers can explore the Spiegel Grove, one of the largest vessels ever intentionally sunk to become an artificial reef, lying approximately 6 miles off Key Largo.
Examples of "don't miss" stops include:
Dagny Johnson Key Largo Hammock Botanical State Park. This 2,683-acre park has one of the United States' largest tracts of West Indian tropical hardwood hammock. It's home to 84 protected animal and plant species including the Key Largo woodrat and American crocodile, and wild cotton and mahogany mistletoe. There are over 6 miles of trails, including a half-mile paved section at the main entrance at State Road 905, a half-mile north of the intersection at Overseas Highway and mile marker 106. floridastateparks.org/parks-and-trails/dagny-johnson-key-largo-hammock-botanical-state-park
Caribbean Club Bar. This lively waterfront spot, known as the Upper Keys' oldest bar, is popular for cocktails, live music and sunset watching. Opened in 1938 and standing at mile marker 104, the bar was part of an original small hotel and restaurant that was the final project of famed Florida real estate promoter Carl Fisher. Exterior location shots of the Humphrey Bogart classic "Key Largo" were filmed on-site. caribbeanclubkl.com
John Pennekamp Coral Reef State Park. The nation's first undersea park, covering 70 nautical miles, is listed on the U.S. National Register of Historic Places. Located at mile marker 102.5, it's famed for glass-bottom boat and snorkel tours of Florida's Coral Reef and dive tours to the Christ of the Deep statue. A visitor center has a 30,000-gallon saltwater aquarium, while other attractions include paddleboarding, saltwater fishing, marked trails through mangrove wilderness and tropical hammocks, beach swimming and camping. floridastateparks.org/parks-and-trails/john-pennekamp-coral-reef-state-park
Keys Chocolates & Ice Cream. The only Keys-based chocolatier — founded in Key Largo and located at mile marker 100.4 — features 36 flavors of ice cream, most hand-crafted; Key lime pies made on-site, Key lime pie bars and specialties such as subtropical sampler boxes, truffles and pretzels drenched in Key lime white chocolate. Treats at the Islamorada venue, located at mile marker 81.9, also include ice creams, Key lime pie, pie on a stick and fine chocolates. Both offer outdoor seating. keylargochocolates.com
The African Queen. The steamboat, listed on the U.S. National Register of Historic Places, starred in John Huston's 1951 film "The African Queen," starring Humphrey Bogart and Katharine Hepburn. Today it travels Key Largo's Port Largo Canal on scenic 1.5-hour cruises. The fully restored vessel was built in 1912 in Lytham, England, to shuttle cargo, missionaries and hunting parties in Africa. Daily cruises depart from Marina Del Mar at mile marker 100. africanqueenflkeys.com or calypsosailing.com
Coral Restoration Foundation. At the foundation's Exploration Center, visitors can get up close and personal with Florida Keys coral reefs and through the foundation's educational efforts, participate in reef restoration. CRF manages the world's largest coral nurseries, raising critically endangered coral species and returning them to Florida's Coral Reef. Ocean lovers of all ages can join the CRF team to help bring these reefs back to life. The facility stands at 5 Seagate Blvd near mile marker 99.6. coralrestoration.org
Keys' Meads. The Keys' only mead distillery has a 2,500-square-foot Key Largo location offering tours, a tasting sampling room and retail space selling made-in-the-Keys mead — an alcoholic beverage crafted from fermented honey — and spirits distilled from mead. Local meads are made from Florida Keys honey, water and yeast and are dry, semi-dry or sweet depending on ingredients. The Meads Club offers shipments. Established in 2017, the distillery is open daily at 99411 Overseas Highway (mile marker 99.4). keysmeads.com
(Original) Mrs. Mac's Kitchen. Key Largo's longest-running restaurant, known for its Key lime pie and straight-off-the-boat fish, is an iconic roadside café at mile marker 99.3 whose walls are festooned with donated automobile license plates. Jeff McFarland founded it in 1976, naming it for his mother and her recipes. Sisters Angela and Paula Wittke have owned and operated it since the late 1980s, with the motto "Eat Well, Laugh Often and Live Long." A newer version — Mrs. Mac's II — is located at mile marker 99. mrsmacskitchen.com
Reef Environmental Education Foundation. This international marine conservation organization's mission is to protect biodiversity and ocean life by inspiring the public through citizen science, education and scientific partnerships with hands-on programs. On-site at mile marker 98.3, a visitor interpretive center is open weekdays with a colorful floor-to-ceiling mural detailing Keys marine ecosystems. There's an outdoor native plants trail, butterfly garden and shaded picnic tables accessible daily from sunrise to sunset. REEF.org
Florida Keys Wild Bird Center. Known for its Laura Quinn Wild Bird Sanctuary, this nonprofit conservation center is dedicated to the rescue, rehabilitation and release of injured and displaced native wild birds. Visitors can learn about Keys wild bird species at the education center and gift shop. The facility, located at mile marker 93.6 in Tavernier, also houses or finds a shelter for birds that cannot be released. The affiliated Mission Wild Bird Hospital (not open to the public) is nearby. keepthemflying.org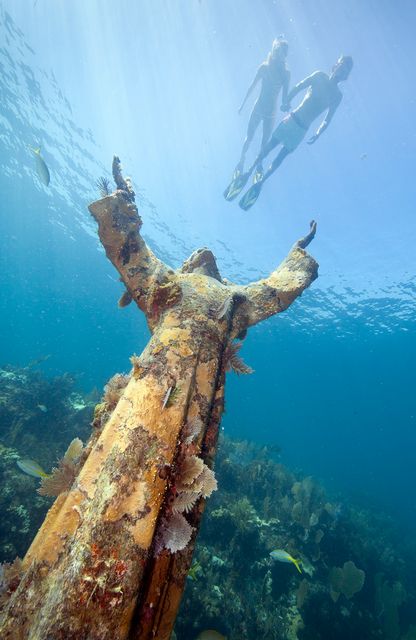 The statue of Christ of the Abyss is a famously photogenic spot for divers and snorkelers. Image: Stephen Frink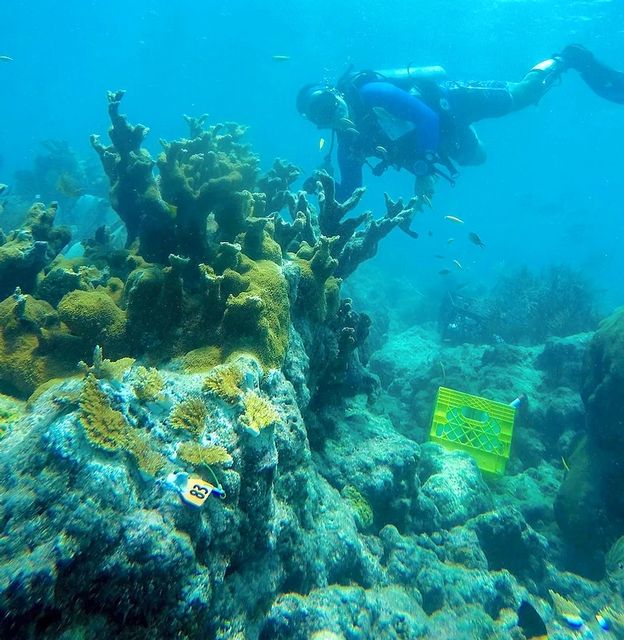 A diver with Coral Restoration Foundation inspects newly planted elk horn corals along the reef tract.
This article was updated on December 10, 2021 at 2:41 PM