Islamorada is known as the Sport Fishing Capital of the World. Heralded for its angling diversity, it features the Florida Keys' largest fleet of offshore charter and shallow-water "backcountry" boats.
Scuba divers and snorkelers also flock to the region to explore the extraordinary reef line and patch reefs brimming with tropical fish, sponges, soft and hard corals and crustaceans.
The Islamorada area also features eco-tours, watersports such as stand-up paddling and kiteboarding, tennis facilities, bicycle trails, historic hikes and beautiful vistas of both the Atlantic Ocean and Florida Bay.
Local restaurants range from very upscale continental to casual to downright funky. Many specialize in fresh-from-the-dock seafood, while others offer steaks, gourmet or ethnic dishes, and even pizza and hamburgers.
Some of Islamorada's "must-see" stops include:
Rain Barrel Artisan Village/Betsy the Lobster. The Rain Barrel is an open-air, tropical garden oasis lined with specialty shops, galleries and boutiques offering local art, handmade crafts, custom jewelry and more. Located at mile marker 86.7, the enclave is easily visible from the historic Florida Keys Overseas Highway thanks to "Betsy," a giant Keys spiny lobster sculpture at the entrance. The anatomically correct lobster, measuring 30 feet tall and 40 feet long, was created by Marathon artist Richard Blaze three decades ago. rainbarrelvillage.com
Windley Key State Fossil Reef Geological Site. Stop at this 320-acre park at mile marker 85.5 to learn about the fossilized coral reef that underlies the Keys. Land at the park was formed by fossilized coral known as Key Largo limestone; until the 1960s, the park's quarry was used to produce decorative Keystone used in walls, patios and fixtures. Visitors can walk along 8-foot-high quarry walls to see cross sections of ancient coral. Other attractions include a welcome center, picnic tables, hiking trails and self-guided tours.floridastateparks.org/parks-and-trails/Windley-Key
Whale Harbor Marina and Restaurants. Whale Harbor Marina is home to some of Islamorada's leading fishing charters. Located at mile marker 83.5, on the edge of the Atlantic Ocean at the southern end of famous Whale Harbor Channel and Bridge, the marina presents a unique atmosphere and quick access for top-level fishing and fun-in-the-sun entertainment. Following a day on the water, anglers can enjoy eateries including Wahoo's Bar & Grill, Whale Harbor Restaurant and Shuck N Dive Islamorada. whaleharbormarina.com
History of Diving Museum. Dive in to see amazing displays that tell the story of humans' quest to explore, understand and venture under the sea. Visitors to the museum, located at mile marker 83, will learn how South Florida's open-bottom helmets have contributed to sports diving, marine biology, underwater photography and treasure hunting. Enjoy a fun scavenger hunt, see a limited-time featured exhibit, join special events and shop in the museum store. divingmuseum.org
Florida Keys History & Discovery Center. The Florida Keys History & Discovery Center occupies a two-story, 7,500-square-foot facility at mile marker 82.1 on property at the Islander Resort. The ground floor explores the incredible history associated with the island chain, especially the history of the Upper Keys and their unique ecological features. The second floor hosts a series of rotating exhibitions reflecting upon the nature, art or history of the Florida Keys. Keysdiscovery.com
The Florida Keys Memorial. Constructed in 1937 at mile marker 81.5, this roadside monument — also known as the Hurricane Monument — commemorates more than 400 lives lost in the 1935 Labor Day hurricane. The design motif features churning waves and wind-blown trees, typical of the art moderne style. The monument is an excellent starting point to explore historic Islamorada and the Morada Way Arts & Cultural District.
Morada Way Arts & Cultural District. This Islamorada neighborhood spotlights the art galleries and restaurants at Morada Way between mile markers 81 and 82. As well as welcoming visitors throughout the year, the popular nonprofit arts district hosts the monthly Third Thursday Art Walk with fine art, live music and culinary offerings. Local galleries include Jessica Ann Art, Limelight Studio + Gallery, Morada Way Clay, Pasta Pantaleo Signature Gallery, Redbone Gallery and Elena Madden Studio Gallery. Restaurants include Kaiyo, Green Turtle Inn and Chef Michael's as well as the Florida Keys Brewing Co. Moradaway.org
Robbie's Marina. An eclectic mix of outdoor shops, food vendors and watersports options comprises Robbie's Marina. Grab a bucket of fish to feed the resident tarpon or enjoy watching everyone else getting up-close and personal with the huge fish. Located at mile marker 77, the marina also is home to fishing boat charters, kayak rentals and more. After spending a day out on the water, visitors can grab a satisfying meal at the on-site Hungry Tarpon restaurant. Robbies.com
Anne's Beach: Lying at the southern end of Lower Matecumbe Key at mile marker 73.4, Anne's Beach is a locals' favorite — and a famous one as well, since it was featured in the original Netflix series "Bloodline" that was filmed primarily in the Florida Keys. With shallow water and a boardwalk suited for picnics, Anne's Beach is an appealing and relaxing stop in Islamorada.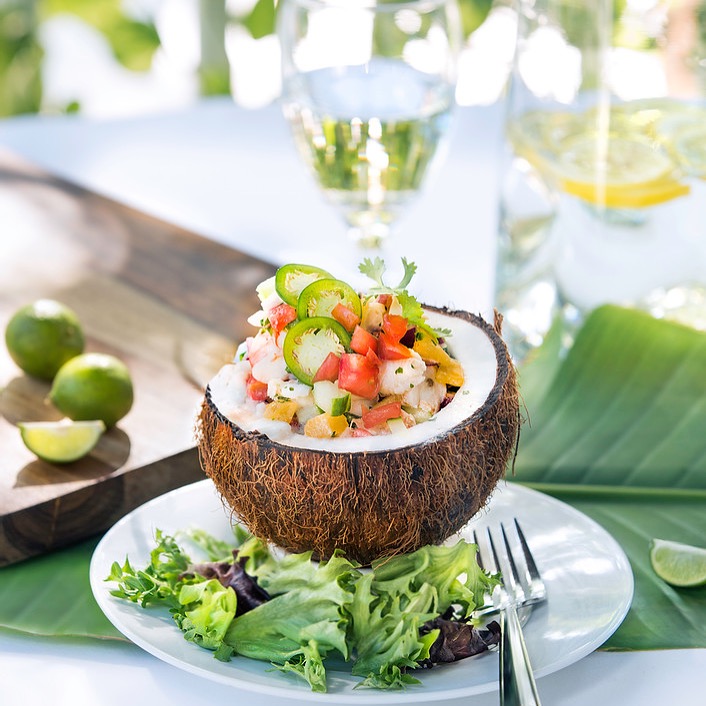 Many Islamorada restaurants specialize in fresh-from-the-dock seafood.
This article was updated on December 10, 2021 at 2:41 PM