The islands of Marathon in the Middle Keys include Boot, Knights, Hog, Vaca, Stirrup, Crawl and Little Crawl keys, East and West Sister's Island, Deer and Fat Deer keys, Long Pine and Grassy keys.
Marathon got its name in the early 1900s from workers constructing the monumental Florida Keys Over-Sea Railroad whose track stretched from mainland Florida throughout the Keys. Working night and day to meet the grueling construction schedule, crews reputedly said, "This is getting to be a real Marathon."
Appealing to multigenerational families and recreational boaters, Marathon's bustling community boasts cozy inns, luxury resorts, waterside vacation homes, RV parks, marinas and other modern conveniences including both a newly constructed hospital and high-tech library, as well as plenty of dining and natural attractions. For example …
The Lagoon on Grassy Key. Founded in 2011 as Keys Cable Park and reimagined in 2020 as The Lagoon on Grassy Key, this Middle Keys staple was created for teaching locals and visitors alike to enjoy board, wind and paddle sports. Tides flow freely in and out of the lagoon with clean ocean water. Previously a limestone quarry and an aquaculture site, today the mile marker 59 facility is a tropical adventure park, organic marketplace and day resort. ridethelagoon.com
Dolphin Research Center. This acclaimed nonprofit marine mammal research and education facility, located at mile marker 59 on Grassy Key, offers a swim program called Dolphin Encounter. Meet the Dolphin, Paint with A Dolphin and a Family Dolphin Splash, offering the opportunity to get waist-deep in water with the resident marine mammals, also are available. dolphins.org
Curry Hammock State Park. Fishing, swimming, kayaking and picnicking are offered at this waterfront park at mile marker 56.2 on Little Crawl Key. The spot also is a popular beach launch for kiteboarders and viewing area for the autumnal migration of birds of prey such as falcons, hawks, ospreys, eagles and kites. floridastateparks.org/curryhammock
Florida Keys Aquarium Encounters. Feeding the fish is not permitted in the open waters of the Florida Keys National Marine Sanctuary — but at this unique spot at mile marker 53, families can swim with and feed the fishes while learning about the region's marine habitats. Visitors can safely feed sharks and other predators through small holes in a thick acrylic barrier. Another highlight is interacting with debarbed spotted eagle and cownose stingrays. Additional interactive experiences such as an immersive coral reef encounter are available. floridakeysaquariumencounters.com
Crane Point Hammock Museum & Nature Trail. This 63.5-acre tract at mile marker 50.5 is one of the most important historic and archaeological sites in the Keys. Crane Point contains evidence of prehistoric Indian artifacts and was once the site of a Bahamian village. Other features include the Museum of Natural History of the Florida Keys and the Florida Keys Children's Museum, a kayak launch, nature trails, a wild bird rehabilitation center and natural habitat for birds and butterflies. cranepoint.net
Sombrero Beach. This well-maintained Middle Keys gem is a free-access public park and beach open daily from sunrise to sunset at mile marker 50. Attractions include a kayak launch, volleyball courts, children's playground, shady picnic pavilions, freshwater shower and restroom facilities. The park at Sombrero Beach also is wheelchair accessible.
Turtle Hospital. Opened in 1986 at mile marker 48.5, the Turtle Hospital treats injured sea turtles and, when possible, returns them to the wild. Daily educational tours introduce visitors to the resident sea turtles and the hospital's curative programs for loggerhead, green, hawksbill and Kemp's ridley turtles. turtlehospital.org
Pigeon Key. Historic Pigeon Key, lying beneath the Old Seven Mile Bridge at mile marker 44.8, formerly served as a camp for laborers constructing the iconic bridge. The island now showcases a museum and offers opportunities to picnic and snorkel, and hosts a robust marine science research program for school-age children from around the world. Daily tours are available, with ferry boat transportation to the island. pigeonkey.net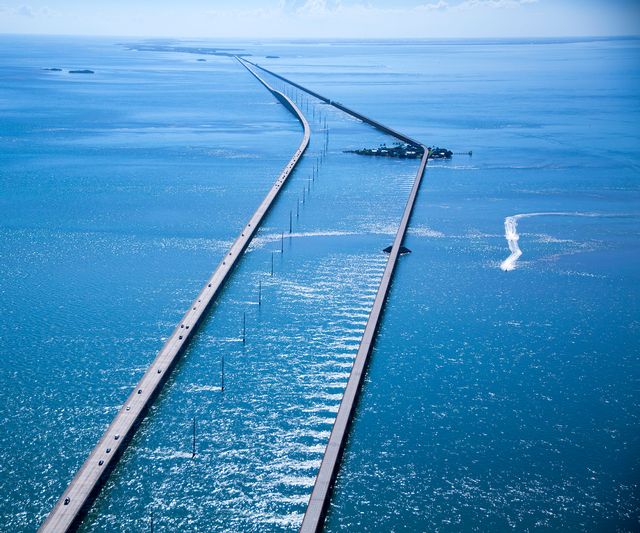 Aerial view of the new and old Seven Mile bridges, with the historic island of Pigeon Key. Image: Rob O'Neal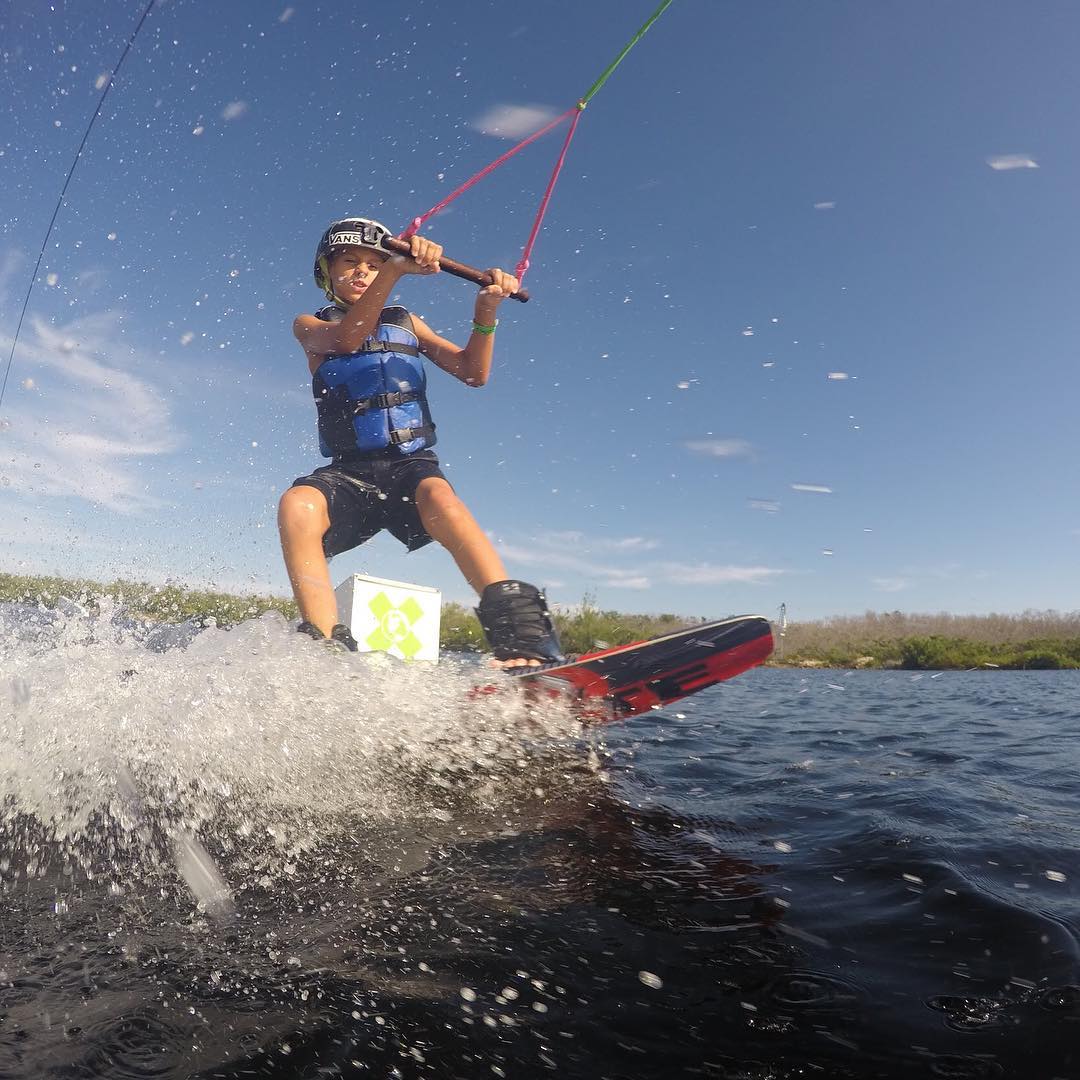 The Lagoon on Grassy Key is the reimagined Keys Cable Park, created for teaching locals and visitors alike to enjoy a variety of board, wind, and paddle sports.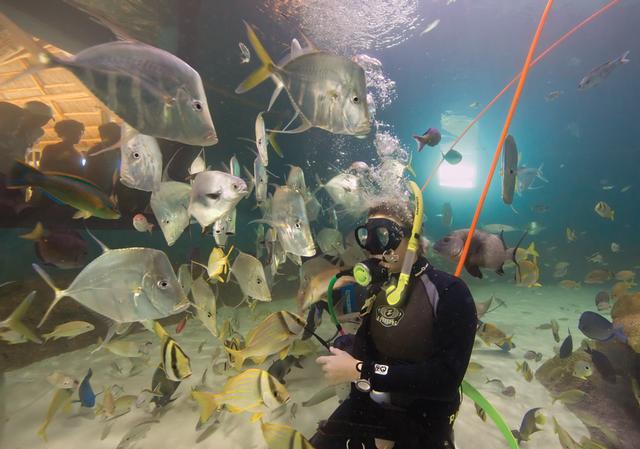 At Florida Keys Aquarium Encounters families can swim with and feed the fishes while learning about the region's marine habitats.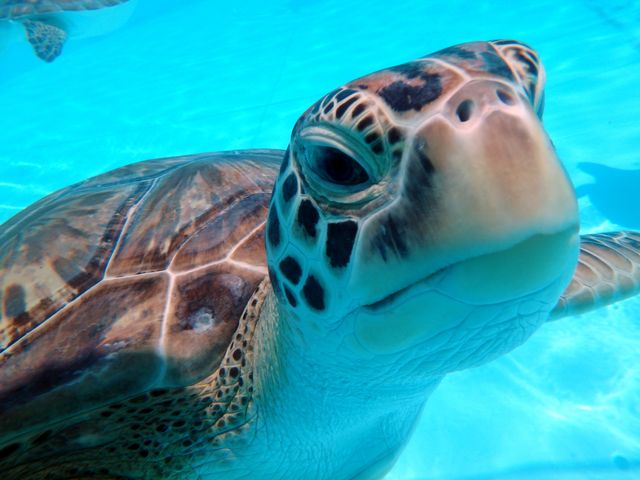 Daily educational tours at The Turtle Hospital introduce visitors to the resident sea turtles and the hospital's curative programs for species they rescue rehabilitate and release.
This article was updated on December 10, 2021 at 2:42 PM