Strewn along the length of the Florida Keys island chain in ocean depths ranging from 20 to 130 feet are several notable shipwreck and artificial reef sites. Affirming an appreciation of the Keys' maritime heritage, these ships are considered some of the destination's most attractive underwater assets.
For 35 years, the waters off Marathon have been home to the wreck of Thunderbolt, a 188-foot cable layer referred to as the queen of the Marathon wreck fleet.
Originally named Randolph, the vessel was launched June 2, 1942, as one of 16 sister ships built as mine planters to guard coastal minefields for the U.S. Army. The Randolph's duties were transferred to the U.S. Navy, yet it was never commissioned and remained idle in a Naval Reserve fleet.
In later years, Florida Power and Light Co. used the renamed Thunderbolt as a cable layer for researching electrical energy and lightning strikes, and eventually donated the vessel to the Florida Keys Artificial Reef Association.
Thunderbolt was stripped of all but a few pieces of equipment before being intentionally sunk as a dive attraction March 3, 1986, in approximately 120 feet of water 6.5 miles south of Duck Key Channel in the Florida Keys National Marine Sanctuary.
An easily navigable wreck that divers can see in its entirety during one dive, "T-Bolt" sits upright and is accessed by following a line from the surface to a submerged mooring ball attached to the ship's bow where a giant cable spool is positioned making a memorable spot for photo ops.
The top of the observation deck is approximately 75 feet beneath the surface. Its superstructure is coated with colorful sponges, corals and hydroids. Large angelfish patrol its decks and barracuda stand watch in the wheelhouse, an easy and intriguing swim-through.
The aft end of the wreck, at nearly 120 feet, has been cut away to expose the engine room, where a few goliath groupers often hang around. The occasional reef shark can be spotted near the rudder and propellers, left on the ship to complement the stern section of the hull to appeal to divers.
Thunderbolt is part of the Florida Keys Wreck Trek, a program that provides advanced- and wreck-certified divers with a special dive log book to preserve their experiences diving on the nine submerged vessels.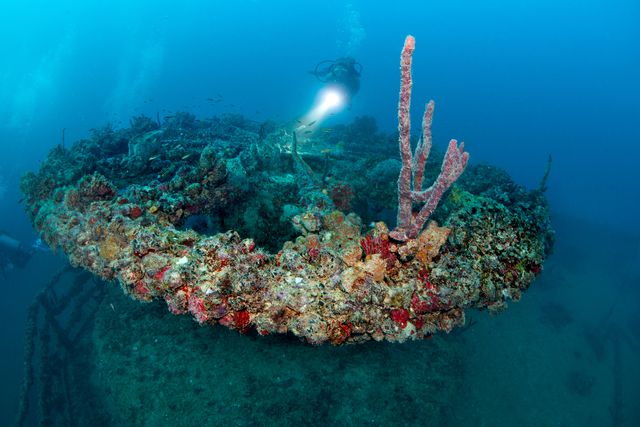 The wreck is encrusted with colorful soft corals and sponges. Image: Stephen Frink/Florida Keys News Bureau
This article was updated on August 23, 2023 at 3:09 PM