What is dengue?
Dengue is a viral disease transmitted by a breed of mosquito common to the southeastern United States and the tropics. It is not spread person-to-person. More than 100 million cases of dengue occur every year worldwide, with year-round cases in the Caribbean and South and Central America. Symptoms of dengue include high fever, headache, pain behind the eyes, backache, joint and muscle pains, nausea and vomiting, and sometimes rash. Anyone experiencing these symptoms should seek medical counsel, although there is no vaccine or antidote for dengue. Care procedures involve common treatments for severe flu cases.
How dangerous is it?
Many people are infected and do not develop any symptoms, said Bob Eadie of the Monroe County Health Department. Others develop severe joint pain, which is why it is also sometimes known as "breakbone fever." People with chronic conditions such as diabetes, hypertension or congestive heart failure may be at increased risk of severe disease. Fatalities are rare; less then 1 percent of patients succumb to the disease.
How could it get to the Florida Keys?
It could be likely that dengue is brought to the islands by either a resident or a visitor who traveled to a dengue endemic area, arrived in the Keys and was bitten there by an Aedes aegypti mosquito, which is common to the Keys. The mosquito, in turn, transmitted the virus to other humans. There has been one reported travel-related case (July 2022) that originated outside of the area of the Florida Keys, according to health officials. That individual has received medical treatment and is expected to make a full recovery.
Is it safe to travel to the Keys?
People should not be concerned about visiting. There are no local, state or federal advisories discouraging travel to the Florida Keys. Many popular tropical visitor destinations are challenged with dengue year-round.
The emergence of these dengue cases reinforces the importance for the public to prevent insect bites and to take basic precautions to help limit exposure. To safeguard against the virus and ensure personal comfort, take preventive measures against mosquitoes:
Keep the area around your residence, business and property free from containers that collect water. Empty birdbaths, buckets, ashtrays, boats, tarps, roof gutters, tires, flowerpot holders and anything else that collects water. Mosquito inspectors will visit residences and businesses to walk with property owners to uncover and treat problem areas.
To help avoid being bitten by Aedes aegypti or any other mosquito, health officials recommend the use of mosquito repellents that contain DEET, picaridin or oil of lemon eucalyptus as an active ingredient. It is important for repellent users to read the manufacturer's instructions.
Between dusk and dawn, wear protective clothing with long sleeves.
Ensure windows and screens are intact.
When retiring for the evening, close windows and doors and use air conditioning.
The Keys have an aggressive mosquito abatement program and the Florida Keys Mosquito Control District is concentrating its eradication efforts.
The Aedes aegypti mosquito is a freshwater mosquito, so the best way to thwart the insect's spread and activity is to eliminate breeding venues.
Visitor Safety information and mosquito protection/preventive measures can be found at https://fla-keys.com/visitor-safety/.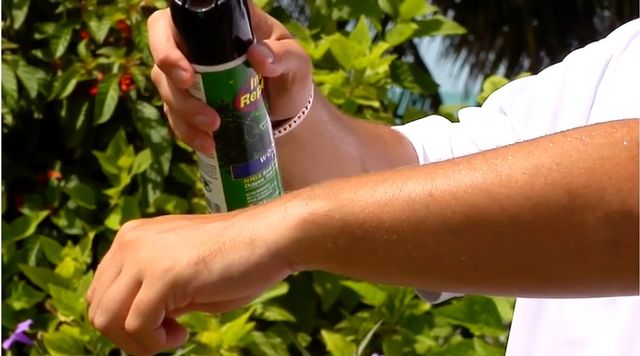 Among preventive measures, health officials recommend the use of mosquito repellents that contain DEET, picaridin or oil of lemon eucalyptus as an active ingredient.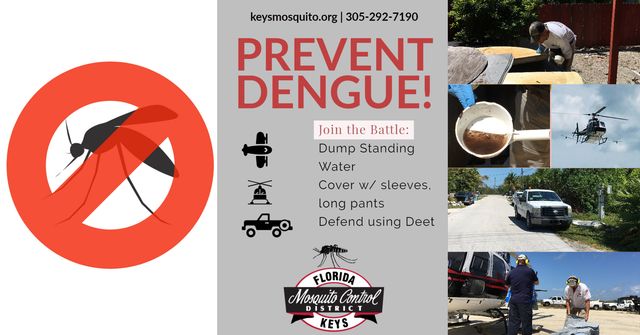 This article was updated on July 26, 2022 at 10:53 AM