Updated on August 22, 2020
FLORIDA KEYS — The Florida Keys Shipwreck Trail is a water-based line of notable wreck sites that stretches from Key Largo to Key West. Established by the Florida Keys National Marine Sanctuary, the trail was created to encourage an appreciation and understanding of the Keys' maritime heritage.
In recent decades, centuries-old wrecks have been joined by ships that were intentionally sunk to create artificial reefs in the sanctuary's federally protected waters.
Resting in depths from 14 to 120 feet, the wrecks on the shipwreck trail reflect a diversity of origins and locations. There are vessels of Spanish explorers dating to the early 1700s, as well as modern cargo and military ships. What shipwrecks make up the sanctuary's Florida Keys Shipwreck Trail?
Off the coast of Key Largo in 25 feet of water is the City of Washington, an iron-hulled steamship used for passenger transport and cargo trade between New York, Cuba and Mexico. It ran aground and sank July 10, 1917, while being towed by a tug.
The Benwood, a merchant marine freighter, also lies off Key Largo in 25 to 45 feet of water. It sank in 1942 after a collision with another vessel. Both were traveling without any lights as a precaution during World War II blackout conditions.
The U.S. Coast Guard Cutter Duane, off Key Largo in 120 feet of water, was named for Secretary of the Treasury William L. Duane, who served under President Andrew Jackson. The vessel was sunk as an artificial reef Nov. 27, 1987.
The San Pedro was a member of the 1733 Spanish treasure fleet and is the oldest wreck on the Florida Keys Shipwreck Trail. It is located off Islamorada's Indian Key in 18 feet of water. Early shipwreck salvagers, known as wreckers, inhabited Indian Key in the early 1800s.
The Eagle, a cargo transporter, was sunk as an artificial reef in 1985. It lies off Islamorada's Lower Matecumbe Key in 110 feet of water.
The three-masted bark Adelaide Baker lies south of Duck Key in 20 feet of water. The ship also is called the Conrad.
A wreck believed to be the North America lies in 14 feet of water on Delta Shoals east of Sombrero Light. The ship was lost Nov. 25, 1842, while carrying dry goods and furniture.
Thunderbolt was donated to the Florida Keys Artificial Reef Association by Florida Power and Light Co., which purchased the vessel in 1961 for use in researching electrical energy and lightning strikes — hence, its name. Thunderbolt lies in 120 feet of water 4 miles south of Marathon and was intentionally sunk March 6, 1986.
The Amesbury is better known in Key West as Alexander's Wreck. A former U.S. Navy destroyer escort that is broken into two sections 200 yards apart, it lies 5 miles west of Key West in 25 feet of water.
As well as the vessels of the shipwreck heritage trail, three artificial reefs sunk in the sanctuary are known to divers around the world. These intentionally scuttled ships help take pressure off natural coral reefs and create new marine habitats.
Spiegel Grove, a retired 510-foot Navy landing ship dock, is the third-largest ship ever sunk to become a new reef for divers. Sunk in May 2002, it's positioned about 6 miles off Key Largo in 130 feet of water. With its top deck some 60 feet below the ocean surface, it remains one the Keys' most intriguing dive sites.
In the Lower Keys lies the 210-foot island freighter Adolphus Busch Senior. Since Dec. 5, 1998, divers have been exploring this artificial reef that was sunk in 100 feet of water southwest of Big Pine Key.
The second-largest vessel intentionally sunk as an artificial reef is the 523-foot General Hoyt S. Vandenberg. The decommissioned Air Force ship once tracked space launches off Florida — and "starred" as a Russian science ship in a 1999 film featuring Jamie Lee Curtis, William Baldwin and Donald Sutherland.
In May 2009, Vandenberg was sunk about 7 miles off Key West. The bottom of its hull rests on sand in depths averaging 145 feet, but its superstructure rises to about 45 feet below the surface.
Only a few ships in Florida Keys waters carried gold or other rich cargoes. But from Spanish galleons to vessels more recently sunk as artificial reefs, they all offer treasures for today's divers and snorkelers: prized and colorful marine life and a unique glimpse into history.
For more information on the Florida Keys Shipwreck Trail and its featured wrecks, visit floridakeys.noaa.gov/shipwrecktrail/welcome.html.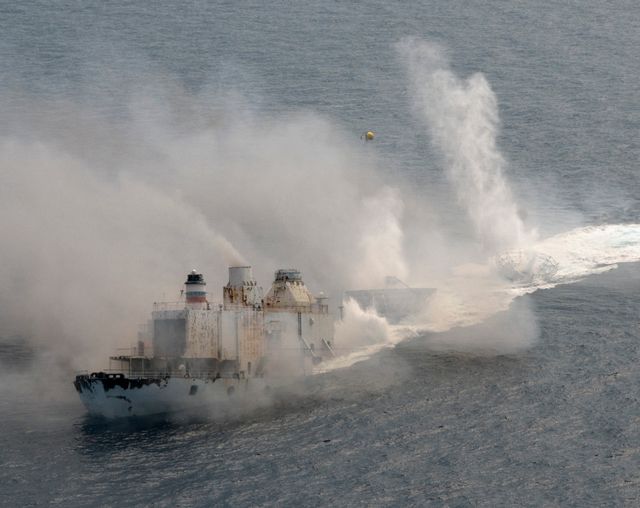 The USNS Gen. Hoyt S. Vandenberg was scuttled off Key West in May 2009, and reached the bottom of the ocean floor, upright, in 1 minute, 45 seconds. Image: Andy Newman
This article was updated on August 22, 2020 at 6:01 PM