Updated on May 7, 2021
Personal Protective Actions While on Vacation
There continue to be precautions to take for visitors to the Florida Keys as well as residents of the island chain, despite increased coronavirus vaccinations nationwide.
In the Florida Keys, wearing masks is no longer mandatory following an order from Florida Gov. Ron DeSantis. Monroe County officials have rescinded a required facial covering order that was in effect to help minimize the spread of COVID-19.
However, individual businesses in the Keys may require that masks be worn inside their establishment, so it is suggested that people carry a facial covering available for immediate use. Business establishments include various lodging facilities, restaurants, grocery stores, pharmacies, indoor attractions, museums, retail or clothing shops, beauty salons, health spas, and other public settings.
When traveling to the Florida Keys, please plan ahead and come prepared. You have the personal responsibility to protect yourself and others in terms of public health.
If you have not been fully vaccinated, it is recomended to bring appropriate facial coverings. Hand sanitizer and personal essential medicines are also suggested. If you're feeling unwell, please stay home, call your physician and get medical advice.
Dr. Mark Whiteside, medical director of the Florida Department of Health in Monroe County, advises that wearing a simple surgical-type mask or facial covering can be effective, especially when done in conjunction with social distancing.
Centers for Disease Control protective protocols:
The CDC continues to recommend that wearing masks is effective to help stop the spread of COVID-19. Masks that fit properly should fit snugly around the nose and chin with no large gaps around the sides of the face.
Other protective actions include:
Getting vaccinated, if eligible.
Practice social distancing.
Frequently wash hands with soap and water for at least 20 seconds. Carry and use hand sanitizer with at least a 60 percent alcohol base if soap and water are not available.
Avoid touching your eyes, nose and mouth.
Cover your cough or sneeze with your elbow or a tissue and properly dispose of the tissue as well as face mask, gloves and other protective apparel.
Stay hydrated and well-rested.
Social Gatherings and Distancing
The CDC continues to recommend avoiding socializing in large groups. Maximize physical distance from others, particularly in closed environments, maintaining at least 6 feet between people. COVID-19 is most transmissible indoors under close, sustained contact.
Florida officials no longer have mandates regarding gatherings' group size.
An advantage of the Florida Keys is that the 125-mile-long island chain has many wide-open spaces, and offers a great opportunity to take advantage of outdoor activities and the natural beauty of sea and sky.
Airline Travel
Both Key West International Airport and Florida Keys Marathon International Airport are operating normally.
There are still venues where masks are a legal requirement such as commercial airplanes and federally controlled transportation hubs.
At Key West International Airport, a coronavirus-fighting robot, named R2Key2, patrols the airport's interior spaces after hours, and emits high-intensity ultraviolet UV-C wavelength light that kills harmful pathogens in the air and on surfaces. The ultraviolet disinfection robot, designed by UVD Robots, is designed to remove 99.9% of pathogens including COVID-19. Key West International Airport is among the first airports in the United States to acquire one of the sophisticated units that provides non-chemical disinfection, according to a manufacturer's representative.
Accommodations and Vacation Rentals
Florida Keys hotels, resorts and other lodging establishments are implementing American Hotel & Lodging Association COVID-19 guidelines for enhanced, best-practice health, cleanliness and safety. At the property's discretion, masks may be requested to be worn.
Check websites of your hotels and other lodging facilities to learn what safety measures are in effect, and what amenities are open and available, such as hotel pools. Guests can expect other protocols such as contactless check-in and check-out procedures, or self-parking options.
Licensed vacation rental properties are also thoroughly cleaned and disinfected between rentals, in accordance with these standards. Contactless check-in and payment processes are being utilized when possible. Vacationers are encouraged to confirm with their property's management what household supplies such as what linens, towels, pillows and beach towels are to be available based on the vacation home's occupancy. Extras of these items may not be provided.
Dining and Bars

Restaurants, food establishments and bars are operating at full capacity indoors and outdoors, generally with appropriate social distancing observed. At the establishment's discretion, masks or facial coverings may be requested.
Outdoor dining areas should be prioritized and requested. Waiting areas may be limited to manage spacing, depending upon the eatery's size, so waiting outdoors is preferable when possible.
Inquire whether restaurant menus are online or viewable on a personal device, or are single use and disposable versus laminated, reusable menus.
Recreation: Parks, Attractions, Museums, Watersports and Beaches
Community parks and other outdoor recreational facilities are open in the Florida Keys. Check with the tourism facility or charter operator in advance to learn if all areas or services are open, such as bathrooms and concessions. Capacity limits are to be in place, as are contactless protocols such as electronic safety waivers for watersports, diving, snorkeling, fishing charters and boat tours.
Public beaches in the Florida Keys are open from dawn to dusk with limited amenities. It is suggested that small groups of people maintain a 6-foot distance between groups during beach access, for the comfort of all beach goers.
State parks are open for daytime use, and some limited camping. Park visitors may not have access to certain amenities, such as restroom facilities, pavilions, picnic areas and campsites, due to area closures or visitor safety considerations. It is recommended to check each park's website in advance, to confirm available amenities.
Dry Tortugas National Park is open, and seaplane and ferry service are fully operational. Camping, restrooms and recreational boating are also permitted. Entrance fees do apply. At Everglades National Park, visitor centers remain closed, although camping is open. Face masks currently are required in all federal buildings and federal lands. Park operations vary based on local public health conditions.
Fitness Centers, Retail Shops and Other Keys Businesses
Most gyms, yoga and dance studios and fitness centers are open and operating at full capacity. Actively practice social distancing, hand washing and sanitizing. Individual businesses may request facial coverings.
Retail customers should not handle or try on merchandise, particularly clothing. Return items to store staff for proper replacement on shelves. Heed markings and signage that an establishment such as a retail store, grocery store or pharmacy displays for customers within the premises to help with social distancing.
What if I Feel Ill While Traveling in the Keys
If you believe you have any symptoms of COVID-19, seek medical counsel immediately. Google "Florida Keys doctors" on your smartphone, call the front desk of your lodging property or contact a hospital emergency room at Mariners Hospital in the Upper Keys (305-434-3600), Fisherman's Hospital in the Middle Keys (305-743-5533) or Lower Keys Medical Center (305-294-5531). Remain quarantined in your hotel room until you receive medical advice, and notify the front desk of your situation. For even more serious medical emergencies, dial 9-1-1.
Respect Others and Have a Great Time
Visitors to the Florida Keys are strongly encouraged to be mindful of personal space, respect local regulations and practices, wear face coverings in public and continue to take other measures to protect their health and that of their traveling companions.
Please dispose of used masks, gloves and other personal items in waste containers. Do not discard them on tables, on the floor or ground, along a roadway or near the shoreline.
The Florida Keys tourism industry wants you to remain healthy throughout your stay, and return home as healthy or healthier, and hopefully even happier, than when you arrived.
CLICK HERE FOR CORONAVIRUS FAQs AND MORE INFORMATION
Passengers arriving at Key West International Airport are greeted with a 'loving' reminder that wearing masks can help protect themselves and others from possible COVID spread, especially if they are not vaccinated.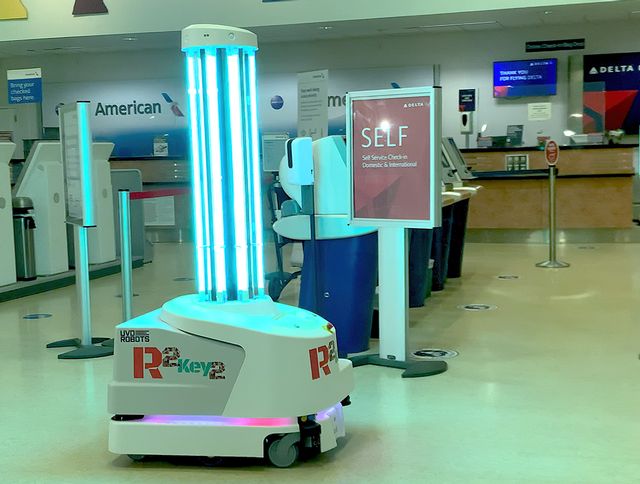 When patrolling airport spaces after hours, the coronavirus-fighting robot 'R2Key2' emits high-intensity ultraviolet UV-C wavelength light that kills harmful pathogens in the air and on surfaces.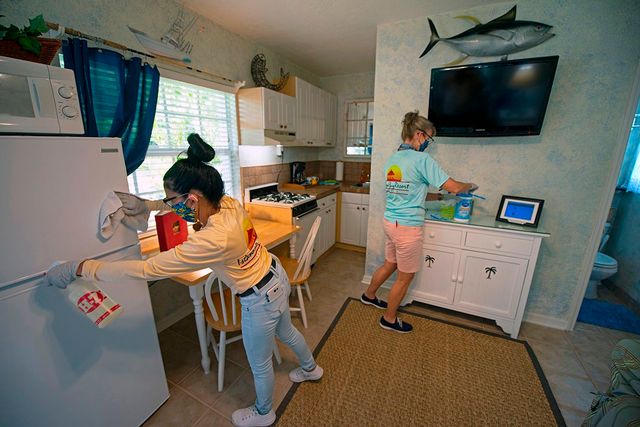 Lodging staff are paying special attention to the disinfecting standards for visitor accommodations.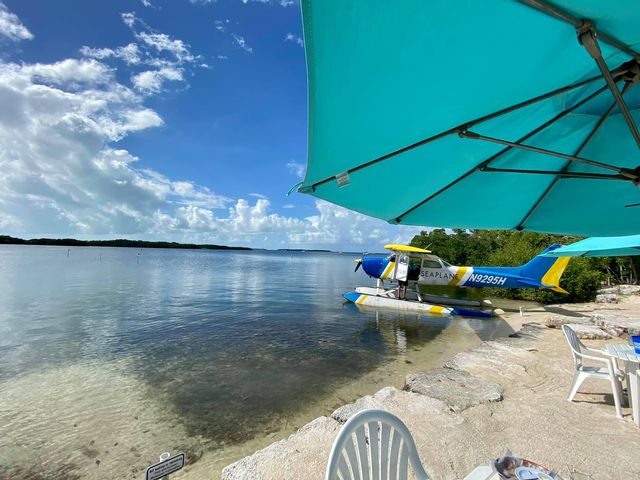 The Florida Keys tourism industry wants you to enjoy your visit, and to remain healthy and happy during your stay.
This article was updated on May 7, 2021 at 8:44 AM